Best 20 inch LED lights for 10 gallon aquariums
Updated: February 11, 2019 - By:
Sieu Nguyen
Aquarium lighting serves several purposes, including allowing owners to observe their aquarium inhabitants, supplying energy to photosynthetic plants, and maintaining the overall health and well-being of the entire aquarium. For a 10-gallon fish tank, generally measuring 20 inches long by 10 inches wide by 12.5 inches high, a 20 inch LED aquarium light will be a perfect fit. Below are some of the best 20 inch LED lights for different types of 10-gallon aquariums (fish only, reef, or planted).
Nicrew LED aquarium light for 10 gallon fish tank

(5/5 by editor)
Check on Amazon.com
LEDs: 72 LEDs (60 white + 12 blue), 7500K, 640 lumens
Modes: white and blue for day and night
Brackets: extendable from 20-27″
Ideal for: freshwater or saltwater fish only, aquariums with low light plants or corals
Includes: two extendable brackets, a fixture, adapter, user manual.
The Nicrew LED light features super bright, energy efficient and long lasting LEDs that produce an amazing shimmer to your aquarium. It comes with adjustable metal brackets to fit aquarium tanks from 20 inches to 27 inches, making it perfectly fit for a 10-gallon aquarium. Being beneficial to photosynthetic organisms makes it an ideal choice for starter hobbyists' tanks with fish and several plants.
Two settings
The light features a 3-position switch for controlling the blue and white LEDs. The white and blue combination best mimics daylight, whereas only the blue LEDs provide the night light. Besides, you can turn off the light by the switch button if you don't have the need of lighting your aquarium at night time.
The light is specifically designed for easy use with a glass or clear plastic canopy. It meets most of the basic requirements of a freshwater/saltwater tank with the main purpose of fish keeping. The user manual included in the package will help you to easily access and install the light.
Current USA Satellite Freshwater LED Plus Light

(5/5 by editor)
Check on Amazon.com
LEDs: 36 White 6500K and 18 RGB LEDs
Modes: 6 preset colors for various freshwater tank types (community, cichlid, Betta, planted, goldfish, shrimp…) 4 memory slots for saving your own color blends, 12 dynamic modes
Brackets: extendable from 18-24″
Ideal for: most freshwater fish tanks.
If you want a light that can offer various wonderful lighting effects and fully customizable ability, the Current USA Satellite Freshwater LED Plus light is a great candidate. This LED light is in the Satellite series from Current USA that includes Satellite LED, Satellite LED +, and Satellite LED + PRO. These products are excellent LED lights for planted tanks that perfectly stimulate the healthy growth of aquarium plants. The Satellite LED Plus is rated for low to medium light level plants. It is fitted with super bright 6500K White LEDs and full spectrum RGB LEDs to offer every colors under the sun.
Remote control
The light is so very easy to use, all of its settings is controlled from a single 32-key customizable wireless remote. By pressing buttons on the remote control, you can use various preset lighting modes as well as customize your own colors and save them for use anytime you want. There are color adjustment buttons on the remote for you to adjust the intensity of each of four color channels to reach your most favorite colors.
The light comes with 6 preset colors that are optimized for freshwater tanks. Based on the types of aquarium livestock (community, planted, cichlid, goldfish, shrimp…) the manufacturer recommends specific colors for each type. Besides, there are 4 memory buttons for saving your custom colors, and 12 dynamic effects including cloud cover, fading lunar, storm, lightning, dusk and others.
Finnex Planted+ 24/7 v2 20-inch for 10 gallon planted tank

(5/5 by editor)
Check on Amazon.com
LEDs: 17W total, 20 Daylight + 12 Red +

 16 RGB LEDs

Modes: 24/7 free-hand lighting cycle, f

our customization colors, weather modes

Size: 20 inch fixture with clear legs that can slide inwards
Ideal for: 10 gallon planted tank, low to high light demanding plants.
You don't want to turn on/off your aquarium light daily by your hands and want everything is automatic, this LED light is the best choice for you. The Finnex Planted+ 24/7 v2 LED light boasts the ability to follow a preset lighting cycle for free-hand control, making it stand out above the rest. This means you can program when the light is turned on or off.
24/7 fully automated feature
The Finnex Planted+ can change its light intensities gradually follow the time of a day that mimics the whole period between sunrise and sunset in the nature. A day cycle in the aquarium using the Finnex Planted+ starts with a cool lit dawn light, transitioning into a warm sunrise morning, followed by an intense color blazing high noon, scaling down to a red sun drowned sunset and finishing with a starry night blue moonlight. This is vital for the aquarium inhabitants because the gradual changes provide them transition periods to acclimate.
The Finnex Planted+ is also one of the best LED light for planted aquariums with its 7000K bright white LEDs for plant growth. With an LED spread of 120 degrees, the light is able to lighten up your entire aquarium to support the plant growth, even in corner areas. The manufacturer recommends the light for low/medium/high light needy plants.
Read the full review: https://lovefishtank.com/finnex-planted-plus-24-7-led-light/
Finnex Stingray aquarium LED light, 20-inch

(4.5/5 by editor)
Check on Amazon.com
LEDs: 23

 Daylight 7000K + 4 Red 660nm + 5 Deep Blue 460nm LEDs, 11 watts total

Modes: daylight with tri-color blend
Length: 20 inches
Ideal for: fish only, 10 gallon low light planted tanks.
The Finnex Stingray is a cheap and effective LED light for low light aquarium plants such as anubias, ferns, mosses… This LED light is usually chosen by starter hobbyists who love to add some low light plants in their first aquariums because of the ease of caring and maintenance.
The fixture is 20 inches long that makes it perfectly fit for a standard 10 gallon aquarium. The package comes with clear plastic legs and a pair of mounting clips for flexibility in the setup. You can use plastic legs to attach the fixture onto the aquarium canopy or hang it inside the canopy with mounting clips.
Finnex FugeRay Planted+ Aquarium LED Light Plus Moonlights

(4.5/5 by editor)
Check on Amazon.com
LEDs: 14.7 watts, 

72 white LEDs 7000K + 40 RED LEDs 660nm + 8 Blue Moonlight LEDs

Modes: white and blue moon lights
Size: 20 inches
Ideal for: 10 gallon planted tank with medium light level plants.
This is also an excellent LED light for planted tank like the previous; however, it doesn't include a timer. The light focuses on the lighting output for boosting the grow of aquarium plants. It features two lighting modes, daytime white light for plant growth and an optional nighttime blue moon light for nighttime enjoyment.
The Finnex FugeRay Planted+ is specially to promote the healthy growth of low to medium level plants. You can use it for your planted tank or marine refugium that needs a high output light for the main purpose of growing plants. It is manufactured for excellent heat dissipation, giving it a longer lifespan than other ordinary LED lights.
Current USA Orbit Marine LED light for 10 gallon reef tank

(4.5/5 by editor)
Check on Amazon.com
LEDs: 18W, 36 Dual Daylight (8,000K/12,000K) and 36 Dual Actinic (445nm/460nm)
Modes: automatic light cycle, preset lighting effects and weather modes.
Brackets: extendable from 18 to 24 inches
Ideal for: marine fish, inverts, live rock, low light corals (soft/LPS).
If your 10 gallon tank is a saltwater fish tank with or without reef corals, the Current USA Orbit Marine is certainly a perfect choice. The reason behind it is that most, if not all, corals only thrive under a particular range of spectrum. This light is specifically designed to aid the growth of low-medium light corals, and is perfect for saltwater fish tank.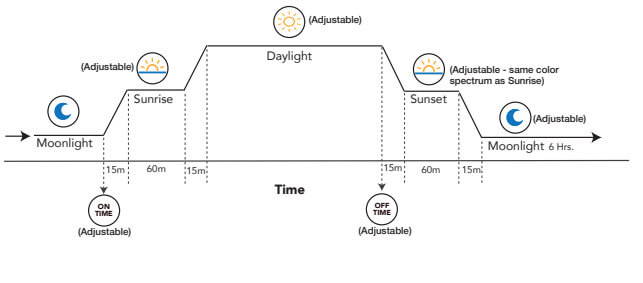 Automatic lighting cycle
Working more than a normal aquarium light with only turning on/off functions, this reef tank LED light works with a Ramp Timer Pro to offer various lighting effects and customization ability. It can be preset to follow a light cycle that is controlled by the timer for automatic operation. Moreover, this product provides your reef tank with almost everything it need for supporting the healthy growth of corals and fish.
There are so many wonderful features of this LED light to talk about, so I have composed a full review of it in a separate article. Read more here: https://lovefishtank.com/current-usa-orbit-marine-led-light/
Deckey extendable LED fish tank light blue and white

(4.5/5 by editor)
Check on Amazon.com
LEDs: 72 LEDs (60 white + 12 blue)
Modes: blue, blue plus white
Brackets: extendable from 

19.7 

– 27.6″ (50cm – 70cm)
Ideal for: freshwater or saltwater fish only, low light plants.
Like the previous, this LED light also has two lighting modes: blue and blue plus white. It is also beneficial to grow plants; thus, it is a great choice for tanks with fish and some low-light plants. It is tailored in such a way to create a special lighting effect and atmosphere for your fish tanks. With extendable brackets, it can perfectly fit your 10-gallon fish tank.
The light is relatively easy to use, you just need to put it on the top of the fish tank and plug into the power, and that's it. It is ideal for both freshwater and saltwater applications. Important to note is that this product not waterproof, so it should never be immersed in water.