Best aquarium LED light for fish tank – reviews & choosing guide
Sieu Nguyen
The best aquarium LED lighting for your fish tank depends on the type of aquarium that you plan to have. This could be saltwater, freshwater, fish-only, reef or planted. This leaves quite a large range of aquarium lighting types that means you have more change to end up making a wrong choice. Of course nobody wants to buy the wrong thing, so I have compiled this complete guide to help you to choose the right LED lighting for your fish tank type.
How to choose the right aquarium LED light?
Basics of lighting and colors
To begin with a simplified model, most scientists currently agree light is a combination of a particle and a wave. Different light colors have different wavelengths along the spectrum ranging from approximately 400 to 700 nanometers (a nanometer is 10-9 meters). Blue light has the shortest wavelength on the visible spectrum occupying the 400 nm end of the spectrum. Red has longer wavelengths in the 700 nm range.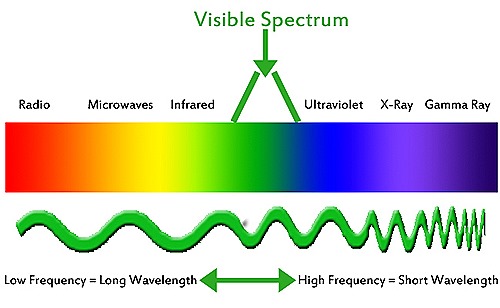 This is important to understanding the nature of the light that reaches corals or plants. As light penetrates water, it is reflected, refracted, diffused and absorbed by the dense medium and any particulate matter in the water. The larger, red wavelengths are the first to be affected and do not penetrate very deep through the water. Shorter blue wavelengths penetrate far deeper. That is why everything looks blue deep under sea. The water is clear, it's the light that is blue.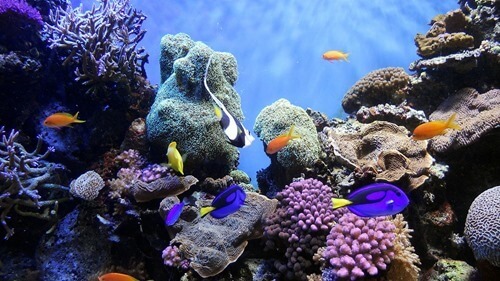 What this means? It is that fish, plants or corals that live in shallow, clean water are acclimated to full spectrum lighting – light containing red wavelengths, blue wavelengths and everything between. By contrast, corals from deep or dirty waters are accustomed to more blue lighting (actually less red).
How does this translate to an aquarium light? Primarily through temperature ratings. Presently, most manufacturers will provide the temperature rating on their light bulbs. It is usually given in degrees Kelvin which refers to the type of the light.
Choosing the right type by Kenvin rating
When choosing an aquarium light, your goal is to create the natural environment as closely as possible so that the fish are not stressed. To choose the right aquarium light, take your attention to the Kelvin rating of the light. Kelvin rating (or color temperature) indicates the temperature to which an efficient radiating object must be heated to emit a certain color. When the radiating object is heated to a relatively low temperature, it burns red. At a higher temperature, it turns whiter, and then finally blue.
The 2700K would look dim white with the presence of a lot of green, yellow and red. It would look like a low quality desk fluorescent.
The 6700K would look like the color of daylight.
The 10,000K would have a bright blue cast.
The 20,000K would have a distinct blue tone.
Choosing the right lighting plays an important role in helping to boost the health of your fish, plants, corals, etc. When you are looking for a lighting system for your aquarium it is best to consider the light available to the creatures in their natural habitat.
If you have freshwater fish and/or plants which naturally exist in extremely shallow rivers you will need a 6500 – 7000K LED light, which provides daylight like one from the sun.
If you have saltwater fish and/or corals, the most natural lighting would use 8000 K light for shallow water species and higher rated light for deeper water species (12000 – 20000 K).
How much lighting do my aquarium need?
Lumen (symbol: lm) is a measure of the total quantity of visible light emitted by a source. Lumen refers precisely to how much light a particular light source gives off rather than how much energy it consumes to provide the light measured by watts.
For fish-only tank, only choose a light that is bright enough to lighten up the entire tank.
For planted tank, the light you need will depend on the types of the plants in the tank.
Low light plants need approx 60 lumens per gallon (10-20 Lm/L).
Average or medium light plants need approx 110 lumens per gallon (20-40 Lm/L).
High light plants need over 150 lumens per gallon (> 40 Lm/L).
Reference: http://tropica.com/en/guide/make-your-aquarium-a-success/light/
For coral reef tank:
To maintain a tank with only low light corals, 1000 lumens per square foot is acceptable but 2500 would benefit the livestock.
If light dependant LPS and soft corals are added, it should be approximately 4000-5000 lumens square foot.
If low light clams are added, 6000 lumens per square foot should be provided.
For SPS corals, anemones and maxima or crocea clams, at least 7000-8000 lumens per square foot are required and 10,000 would not be overkill.
In fact, ultimately lumen is the primary determinative factor for the growing of plants and coral rather than watts. Although, manufacturers usually provide only the wattage of the lights. So, you need to base on the watts to predict the lumen output. Unfortunately, different types of aquarium lights will consume different energy (watts) to provide a same lumen for an aquarium. LED light is new technology light that save energy by consume less energy (watts) than other lights to provide the same quantity of light (lumen). So, you can't use the rule "1-3 watts per gallon for planted tanks or 3-5 watts per gallon for reef tank" if using LED light. That rules are only true for compact fluorescents.
Moreover, each LED models from different manufacturers also has its specific luminous efficacy (lumens per watt). So, it is hardly to find out the exact number of how many watts of LED light per gallon of water without the luminous efficacy (lm/W) provided by the manufacturer. Luckily, the manufacturers will provide you which types and sizes of aquariums their products intent for, so it is very easy for you to choose the right one based on your aquarium length. Just read what is claimed by the manufacturers and the reviews of other customers to make your right decision.
What fixture length should I need?
The easiest way to choose an aquarium lighting is basing on what is claimed by the manufacturer and the length of your fish tank to choose a proper fixture length. If you can't remember your aquarium dimensions, the following table containing the dimensions of various standard size aquariums will help you.
| | | | | | | |
| --- | --- | --- | --- | --- | --- | --- |
| Fixture length (inch) | 10″-20″ | 24″ | 30″ | 36″ | 48″ | 72″ |
| For tank size (gallons) | under 10 gal | 20 gal high | 20 gal long/29 gal | 30-50 gal | 55/75/90 gal | over 125 gal |
Best aquarium LED light reviews
Nicrew LED aquarium light for freshwater or saltwater fish tank
Lighting modes: white and blue for day and night times
Used for: freshwater or saltwater fish tank
Benefit for aquarium plants and fish
Available sizes: 11-19″, 20-27″, 28-36″, 37-45″
Adjustable metal brackets to perfectly fit your aquarium size
Easily set up with the  from the product.
If you have a fish-only aquarium without or with several photosynthetic organisms (plants or corals), there is usually little need to invest in anything more than a standard aquarium lighting which costs an affordable price. Nicrew LED lights are very popular in the hobby because it not only costs an very cheap but also meets most of the basic requirements of a freshwater/saltwater tank for the main purpose of keeping fish.
The light features a 3-position switch button for turning on/off the blue and white LEDs to provide suitable lighting according to the day and night time. There are various sizes available for different aquarium lengths. Moreover, the product comes with adjustable metal brackets to perfectly fit your tank. It also comes with an user's manual for you to easily access and install the light.
Deckey extendable LED light for freshwater or saltwater tank
Lighting modes: blue and blue + white
Ideal for: freshwater or saltwater fish tank. Beneficial to grow aquarium plants
Available sizes: 12″, 20″, 30″, 37″
Extendable brackets to perfectly fit your aquarium size.
This is also a very inexpensive LED for a fish tank that contains either fresh or saltwater fish. Besides, the light is beneficial to grow aquarium plants that makes it a great choice for starters' aquarium with fish and some low-light plants. There are various fixture sizes and extendable brackets included to fit various tank lengths that fall into these ranges: 12-20″, 19.7-27.6″, 28.3-35.4″, 37.4-45.2″.
Current USA satellite freshwater LED plus light
Includes: Wireless LED remote control
Lighting modes: white and blue LEDs can on/off/dim together or independently, fade modes for cloud cover effects, lunar light modes, storm modes, dusk mode for evening viewing
Ideal for: freshwater fish tank
Available sizes: 18-24″, 24-36″, 36-48″, 48-60″
Adjustable docking mounts to perfectly fit your aquarium size.
Current USA satellite freshwater LED plus light includes 6500K white LEDs and RGB LEDs that provides a full spectrum lighting for the great viewing from your fish and plants. Moreover, it comes with a single 32-key customizable remote which offers the ability to fully customize the light to get the color you want. The remote features 32 buttons which include:
6 pre-set color buttons which are optimized and ready to use on freshwater tank
12 dynamic effect buttons including: cloud cover, fading lunar, storm, lightning, dusk…
8 increase/decrease color buttons for adjusting the intensity of separate colors (red, blue, green)
4 memory buttons for remembering your own color blends
1 pause/play and 1 power buttons.
The bag thing is that the light don't include any timer or programmer to automatically turn it on or off for day and night time. However, you can use it with a timer to perform the automatic lighting cycle without manual control.
Finnex Planted+ 24/7 – the best aquarium LED light for plants
Features: 7000K/multi-color blend for plant growth
Lighting modes: 24/7 feature for free-hand lighting cycle, f

our customizable color channels, dimmable

Available sizes: 20″, 24″, 30″, 36″, & 48″
Ideal for almost aquarium plants that need low, medium or high light to thrive
Clear legs are designed to perfectly fit various aquariums in various sizes and shapes.
If your tank is a planted tank with various plants to care for, the is no choice better than the Finnex Planted+ 24/7 fully automated aquarium LED with controller. Its 24/7 feature allows you to control the light without your hands because everything is fully automatic follow a pre-set cycle which can be customizable.
24/7 feature
The 24/7 feature provides various lighting effects which are slightly switched between the natural sunrise and sunset lights. It starts with a cool lit dawn, transitions into a warm sunrise morning, followed by an intense color blazing high noon, scaling down to a red sun drowned sunset and finishes with a starry night blue moonlight.
Another important feature making this LED light ideal for planted aquariums is its bright white 7000K LEDs which are strong enough to grow most types of freshwater aquarium plants, even high-light plants.
If you have a planted aquarium and want to make your plants gorgeous, check my guide for choosing the best LED light for planted tank.
Finnex FugeRay Planted+ aquarium LED light plus moonlights
Includes high output LEDs for growing aquarium plants
Lighting modes: daylight and moonlight
Ideal for: low-medium light aquarium plants, sump setups
Available sizes: 12″, 16″, 20″, 24″, 30″, 36″, 48″
High quality fixtures for superior heat dissipation
Lifetime: 40.000+ hours.
Like the previous light, this is also used for planted tanks; however, it comes with a cheaper price because it doesn't include the 24/7 feature. The Finnex FugeRay Planted+ is included with high output LEDs for using on tanks with low-medium light plants or sump tank setups. It features two modes: white light for growing plants and blue moon light for night-time viewing. I personally don't like to use the blue light, the white daylight with a timer is just enough to keep my planted tank thrive.
The lifetime of this LED light fixture is very long because it it designed to excellently dissipate the heat. Besides, the lifetime of the LEDs can reach over 40.000 hours that means you can use it for over four years. There are so many fixture sizes for choice
Beamswork EA Timer FSPEC LED for low-light plants
Lighting modes: day and night
Ideal for: low light freshwater plants, cichlid fish tank
Available sizes: 18″, 24″, 30″, 36″, 72″
Extendable brackets.
Beamswork is known with its LED lighting products that are reliable but usually come with prices nearly cheapest on the market. Beamswork EA Timer FSPEC LED is also a very cheap and reliable LED light that is ideal for starters' fish tanks with plants which need low light like anubias, bolbitis, ferns, mosses…
There have a timer (sold separately) specially designed for this LED light that help you to control when the day light or is turned on or off. You should buy the timer to automate this process. Again, this is a great choice for a planted freshwater tank with a low budget.
Current USA Orbit Marine – the best aquarium LED light for reef tank
Includes: Ramp Timer Pro with wireless IR remote for fully control
LEDs: 8,000K/12,000K white and 445nm/460nm actinic blue LEDs
Lighting modes: very flexible color adjustment, adjustable moon light color, brightness and duration, slow sunrise and sunset
Dimmable: intensity from 0-100%
Ideal for: marine fish, inverts, live rock, soft corals, LPS corals
Available sizes: 18-24″, 24-36″, 36-48″, 48-60″
Adjustable docking mounts to perfectly fit your aquarium size.
Most corals are photosynthetic organism and they need a proper LED light which can provide a particular range of spectrum to thrive. According to the invertebrates added in your aquarium (LPS corals, SPS corals, anemones, or clams), you will need a particular light to meet their needs. Current USA Orbit Marine LED light is designed to help the growth of the low-medium light corals such as Soft and LPS corals. Besides, it can be used for a saltwater fish tank with only marine fish and live rock.
The most feature making the Current USA Orbit Marine different from other LED light for reef tank is its programmable ability. The Ramp Timer Pro with wireless IR remote allows to automatically control the light follow a pre-set cycle. Moreover, there are various lighting effects and modes available to use as well as you can save and use your own customization if you want.
The light intensity can be dimmable from 0 to 100% that is very helpful in acclimating your corals to the new LED light when updating from the old light. There are various sizes for different aquarium sizes. The adjustable docking mounts are also included to make the fixtures perfectly fit for your aquarium.
Find more options, check my guide for choosing the best LED light for your reef tank.
Benefits of using LED light for fish tank
LED lighting is more energy-efficient and provides brighter light than other lighting. They generally cost more to buy, but they last longer and conserve more energy.
LED lights produce only a little heat and make no noise during operating, and it can last for a decade that is far longer than other light types available in the market today.
It is easier to customize an LED light to fit various aquarium needs than other lights because the LED light fixture includes many LEDs which can be separately adjustable. It is easier to create night-time or lunar lighting using LEDs because the diodes can be segregated by colors and are easily dimmed. Plus, with the node-like, colored LEDs, the owner can create fun, aesthetic lighting effects.
LED lights provide several wavelengths of light that are essential to the photosynthesis of aquatic plants or corals in an aquarium. Using LED lighting for a fish tank is a reliable and energy-efficient way to provide sufficient light for the life-forms inside any aquarium.
LEDs do not have glass tubes, and they contain no mercury. If they were to accidentally fall into the aquarium, there would be minimal damage done to the life inside.
Frequently asked questions
What light should I use for my aquarium?
Some people think that the fish don't require a good artificial lighting source with a proper spectrum in order to survive but they do. Always use the lights which are designed for aquarium use, and if your aquarium is a high one, consider using the more powerful light for the height of the tank.
How long do aquarium LED lights last?
A high-quality LED light can retain 70% of their initial output for over 50,000 hours, depending on operating conditions and other factors. Your aquarium need to be lid up 10-12 hours per day that means you can use the LED light for over a decade (ten years) – many times as long as incandescent sources.
How long should I leave my aquarium light on?
Fish and plants in an aquarium require specific periods of light and dark throughout the day. Try to simulate natural lighting as much as possible by providing 10 to 12 hours of light per day; provide lunar light, or darkness for the remainder of the time.
When should I turn on/off the aquarium light?
Fish, plants, and corals which derive from different places will need different light cycle to thrive. However, most aquarium fish today need a light cycle with 12 hours of light and 12 of darkness to live healthily. So, turning off the light at night will provide a time for your aquarium creatures to rest. When turning the aquarium light on or off, it is beneficial to have the room light on for at least 30 minutes to not make sudden changes and stress the fish.
How to hang aquarium LED lights?
If you buy a LED aquarium kit, it usually comes with extendable brackets or arm mount bracket for hanging. If your light doesn't include these hanging equipment, you need to buy one. To use extendable brackets, your aquarium lid should be made of clear glass or acrylic, hang the brackets on the left and right sides of the aquarium wall over the lid. To hang arm mount bracket, simply attach it to the back aquarium wall.
How to convert aquarium light to LED?
For converting from old aquarium light to LED light, you should choose the light type with the same Kenvin rating. Plants, corals, and fish can only adapt to gradual light changes. And because the intensity of LED light is usually stronger than other light, you should acclimate your aquarium inhabitants to the new light. To do that, you should dim the LED light and then gradually increase its intensity. This procedure should take 3-4 weeks.
How to dim LED aquarium lights?
There are some ways to dim an aquarium LED light, they include: raise your fixture, use window screen or shade cloth, and the easiest method is using a dimmer. It is ideal to choose a LED light with dimmable feature if you want to convert from the old aquarium light.