Best LED lights for marine coral reef tank – reviews & buying guide
Sieu Nguyen
Most corals are photosynthetic organism and they need a specific LED light for reef tank to thrive. Although lighting is very important for the life of coral, not all aquarium LED light can grow corals. According to the invertebrates kept in your aquarium (LPS corals, SPS corals, anemones, or clams), you will need a particular light to meet their needs. In this guide, I will cover some of the best reef tank LED lights that are intended for different coral types for you to choose.
Best LED light for reef tank reviews
ViparSpectra Timer Control 165W LED aquarium light for coral reef grow
Editor's rating:
Check on Amazon.com
LEDs and lens: Each VIPARSPECTRA LED light is included with 55 pieces of powerful 3W LEDs capable of producing high PAR output and enhancing light penetration to benefit the coral reef grow. The 90-degree LED lenses ensure the lighting penetrates the depth of the water.
Lighting modules: The full spectrum light mimics natural light to achieve the best balance for the healthy growth and development of your corals and fish. There are two channels – white (520nm Green, 660nm Red, 6500K Neutral White, 12000K Cool White) and blue (420nm Violet/Indigo, 450nm Royal Blue, 470nm Blue). There comes a built-in timer for you to separately program the intensity as well as on/off time for either of its two channels. It comes with a remote control allowing you to program and turn on/off the light.
Using and lifespan: This great aquarium light is equipped with a cooling system that includes quiet fans and heat sink to prolong its lifespan up to 100,000 hours (double other LED lights in the market). It also comes with an adjustable hanging kit to allow you perfectly set the light on your tank. One fixture is ideal for a tank measuring 24 x 24 x 24″.
Lightimetunnel 165w LED light for LPS SPS coral reef fish tank
Editor's rating:
Check on Amazon.com
LEDs and lens: Lightimetunnel LED aquarium light includes 55 x 3w LEDs (high-quality 45mil Bridgelux white LEDs and 45mil Epistar blue LEDs) that are well known for extreme brightness (30% more lighting than other LEDs) and high light penetration to optimize the light efficiency. These 120-degree LEDs are covered with the top quality acrylic lens to offer ambient light efficiency as well as color uniformity.
Lighting modules: There are two lighting channels (white and blue), which are powered by two separate power cords. There are also two on/off switches for turned on/off each channel. You can use either white or blue channel, or both of the channels for the full spectrum. Moreover, there come two dimmable knobs for dimming each channel separately that offers full customization.
Channel 1 (28 LEDs): Cool white, warm white, red 660nm, green 520nm. The white lighting benefits the growth of aquarium plants while the red lighting makes your fish happy and more colorful.
Channel 2 (27 LEDs): Blue 460nm, purple 410nm, royal blue 450nm. The blue lighting helps to produce vitamin D3 that promotes the calcium absorption and the vigorous growth of coral.
Using and lifespan: You can use only the channel 1 if using this LED light for grow freshwater aquarium plants; however, in economic term it is more suitable for marine reef tanks. It features an Aluminum heat conducting plate and UL-approved fans to protect your lamps from heat and extend its lifespan up to 50000 hours. Its dimensions are 15.8″ L x 8.4″ W x 2.4″ H and one fixture is recommended for a 20-50 gallon reef tank.
Current USA Orbit Marine LED light for soft and LPS corals
Editor's rating:
Check on Amazon.com
The Current USA Orbit Marine LED light includes 8,000K/12,000K white and 445nm/460nm actinic blue LEDs that provide eye-popping colors with vibrant shimmer. It uses 120-degree lens to provide an uniform and perfect color blend. Unlike other LED lights that only include a normal timer, the Current USA Orbit Marine LED light features a Ramp Timer Pro with wireless IR remote offering the ability to be programmable and dimmable from 0 to 100% intensity. All the great features included make it the best LED light for marine fish, inverts, live rock and corals (soft and LPS corals).
In addition to the ability to automatically turn on/off the light follow a preset cycle, there exists a time between the on and off time when the light slightly changes its intensity to stimulate the sunrise and sunset effects that mimics the natural habitat of fish and coral undersea. There are four preset cycles (timer M1/M2/M3/M4 buttons) for full intensity modes or coral acclimation modes that are all ready to use. Watch the following video from the manufacturer to know how to program the light.

There are many fixture sizes for choosing, they come with adjustable docking mounts to fit various reef tank lengths in these ranges: 18-24″ (10-20 gallon tanks), 24-36″ (20-30 gallon tanks), 36-48″ (30-55 gallon tanks), 48-60″ (over 55 gallons).
Current USA Orbit Marine LED light for soft and LPS corals
Current USA Orbit Marine Pro for soft, LPS, SPS corals and clams
Lighting modes: very flexible color adjustment and four dynamic preset effects.
Programmable: 24 hour on and off ramping simulates sunrise, sunset and moonlight.
Dimmable: intensity can be adjustable.
High PAR ideal for: marine fish, inverts, live rock, corals (soft, LPS, SPS corals) and clams.
Available sizes: 18-24″, 24-36″, 48-60″, 72″.
Adjustable docking mounts to perfectly fit your aquarium size.
The Current USA Orbit Marine Pro has many features similar to the Current USA Orbit Marine; however, it is specially designed to provide higher PAR to grow most photosynthetic corals (soft, LPS, SPS corals) and clams. If you have high-light corals in your reef tank, the Current USA Orbit Marine Pro will provide enough light to make these photosynthetic creatures thrive.
ICOCO dimmable full spectrum reef tank LED light for LPS/SPS corals
ICOCO reef tank LED light
ICOCO is a highly versatile LED light for reef tanks. It consists of 55 pieces of 3W LEDs (including blue, red, green, cool white and warm white LEDs). Red LEDs promote healthy growth of fish and makes them look more visually appealing; blue LEDs decorate the water giving it the appearance of seawater and helps the corals to absorb calcium and vitamin D3 to promote their growth; and white LEDs that sterilize, disinfect and promote plant growth.
Like most LED lights for coral, the ICOCO LED light also offer two channels (blue and white) with two switches and two dimmers. To prevent overheating that may negatively affect your fish or plants, the fixture is made of high heat dissipation material and is equipped with an ultra-quiet cooling system including 3 mute fans.
The LED bulb systems are high quality and will serve you for up to 50000 hours of continuous use. You do not have to worry about your electricity bills because the light is low consumption. All the materials used in the construction of ICOCO aquarium light are eco-friendly, no harmful lead or mercury.
OceanRevive

® 

Arctic-T247 120W LED light for SPS/LPS/soft corals
Editor's rating:
Check on Amazon.com
LEDs and lens: The light consists of 48 pieces of 3W LEDs (Royal Blue 450nm, Blue 470nm, Cool White 10000K, 12000K, Red 520nm, Green 660nm and UV 420nm) that are bright and highly penetrating. The 90-degree lens are designed to promote the light penetration through the width and depth of reef aquariums. The OceanRevive® Arctic-T247 LED light is developed by fellow reefers and is recommended by the popular reefing forums such as Reef2Reef, ReefCentral, Nano-Reef… The PAR output is strong enough to support the growth of most corals from soft to LPS/SPS.
The light offers two channels independently (full spectrum or blue channel only) that are controlled by a built-in controller. The controller features a convenient remote for controlling both time and intensity of the light.
This LED light is extremely power-saving and environmentally friendly. There is an effective cooling system including dual silent fans to keep the ideal operating temperature at 90-110°F. The package comes with both hanging kit and supporting bracket to make it fit various fish tank sizes.
Euphotica programmable LED light fixture for saltwater, reef tanks
LEDs: full spectrum (8,000K to 20,000K) with white, blue, violet/indigo, green, and red LEDs for the stunning view and coral growth.
LED lens: 90 degree optic lens for maximizing coverage and optimizing PAR output.
Lighting modes: color temperature is adjustable from 8,000K to 20,000K helping you achieve your corals' needs, full spectrum for your viewing pleasure.
Dimmable: digital intensity control offers the ability to fully adjust the light intensity (0-100%). It is very helpful for you to upgrade from your current light and acclimate the corals.
Euphotica programmable LED light
Programmable: LCD panel with capacitive (touch) control offers to set your own light schedule and the Euphotica LED light will automatically switch between sunrise and sunset effect follow the cycle.
Heat dissipation: fan system for the longer lifetime of the LEDs
Available sizes: 16″
Hanging kit includes two carabiner hooks and two hanging cables
Instruction manual is included for easy access.
Galaxyhydro 55x3w LEDs for coral reef and saltwater fish
LEDs: 55 x 3W LEDs include 45mil bridgelux white chips and 45mil Epistar blue chips
LED lens: made of famous brand acrylic for higher PAR output, high transmittance, perfect color uniformity, anti-aging.
Galaxyhydro 55x3w LEDs for coral and fish
Lighting modes: two dimmers with two power cords and two on/off switches for blue, white or full color effect simulating natural environment of corals, such as sun-set, sun-rise, day and night…
Dimmer 1 (28 LEDs): cool white, warm white, red 660nm, green 520nm
Dimmer 2 (27 LEDs): blue 460nm, purple 410nm, royal blue
Turn on both 2 dimmers for full color effect
Dimmable: the brightness is fully manual dimmable from 0% to 100% by a revolving button
Galaxyhydro 55x3w LEDs for coral and fish
Heat dissipation: mute fans for lower noise than others
Dimension: 15.8 x 8.4 x 2.4 inches
Using: one light fixture for a 20, 25, 29, 30, 40 to 50 gallon aquarium. For larger tank sizes, use more than one fixture for better performance
Lifespan: 30000 hours
Power consumption: 120W+/-3%
Warranty: 1 year.
LED light for reef tank choosing guide
Choosing an appropriate lighting for the photosynthetic organisms in your reef tank requires answering three questions:
What types of light are relevant?
How much light is enough?
What system will provide the right types and quantity of lighting?
Choosing the right type of light based on the color temperature
Without getting too much into the science of it all, light is a wave which is blue at the shorter wavelength (more energy) and red at the longer wavelength (less energy). We see this in a rainbow as the light spectrum is split up in the rain or by a prism.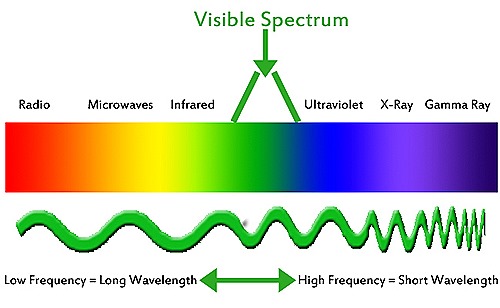 Visible light spectrum (source: wikimedia)
As sunlight travels through water the longer wavelengths (longest is red light – wavelength from 650nm to 700nm) are removed. From 15 feet the red spectrum has been removed and by 50 feet of water only the blue remains. Coral which exists naturally at around 30-40 feet below the surface of the sea then you will need a lighting system which can supplement blue light (8000 – 20000 K) rather than white light (6500 – 7000 K) used for freshwater plants.
Specific types of corals use different light spectrum (or color temperature) for their photosynthesis that will vary according to their natural habitat (depends on the depth below the sea level where they live). Using the right light will help to boost the health of your corals, so it is best to consider the light available to these creatures in their natural habitat. You should consider a LED light that can provide a right color temperature to meet the needs of all corals in your reef tank.
How do corals use the light to survive?
The primary difference between a reef tank and a fish only marine tank is the presence of live corals and the inverts that help maintain a coral-suitable environment. The vast majority of corals maintained in home aquariums are photosynthetic. They convert light to nutrients and therefore essentially feed off the lighting available. This is accomplished through a symbiotic relationship between the corals and algae species called Zooxanthellae, which live inside the coral tissue and convert light into glucose through photosynthesis.
While many corals may also actively feed on plankton to supplement photosynthetic nutrient production, to varying degrees most require some minimal light output to survive. As a result, maintaining a reef tank requires the aquarist to pay particular attention to meet the needs of corals and other light dependent invertebrates (like clams and anemones) by assuring availability of light.
Over lighting and coral bleaching
The Zooxanthellae live within the corals system and live off the waste of the coral, such as carbon dioxide and forms of nitrogen as a food source. In turn, the coral lives off the waste of them. If the coral's environment is not kept as it should and becomes stressed, then it will expel the Zooxanthellae. This phenomenon is called coral bleaching and the bleached corals will probably die.
Coral bleaching happens when the corals are stressed that can be caused by a multitude of factors, including over lighting. Over lighting usually happens when switching from fluorescent light to LED light. That is the reason why you need a dimmer to acclimate your corals to the new LED light (some LED lights today include dimmable feature).
Quantity of light – how much light is enough?
To answer this question you need a unit to measure the light quantity. Lumen (symbol: lm) is a measure of the total quantity of visible light emitted by a source. Lumen precisely refers to how much light a particular light source gives off rather than how much energy it consumes to provide the light measured by watts.
Different types of aquarium lights, as well as brands, will need different energy (watts) to provide same lumens for an aquarium. LED light is new technology light that saves energy by consuming less energy (watts) than other lights but providing the same quantity of light (lumens). So, there is no specific rule "watts per gallon" for LED light like other aquarium lights.
As a baseline consider the minimum lumen output suitable for any reef tank to be 1000 lumens per square foot of surface area for a shallow tank (no more than 18 inches deep at the location of corals). To calculate square footage of your tank, multiply length times width in inches and divide by 144.
To maintain a tank with only low light corals, 1000 lumens per square foot is acceptable but 2500 would benefit the livestock.
If light-dependant LPS and soft corals are added, the lumens should be approximately 4000-5000.
If low light clams are added, 6000 lumens should be provided.
For SPS corals, anemones and maxima or crocea clams, at least 7000-8000 lumens per square foot are required and 10,000 would not be overkill.
The lumen parameter is normally not provided; however, the manufacturer will provide you which aquarium types and sizes the product is intended for. Just read what are claimed by the manufacturers and the reviews of other customers to make your right decision.
Consider to the great visual effect
Since coral requires blue light to survive you will need to have a blue light in your aquarium lighting. The problem with this is that an aquarium doesn't look very nice when showered in blue light. To make your coral grow but still have a nice looking aquarium it is often best to combine a specifically blue LEDs with some other colorful ones. This gives the coral the required blue light while also bathing the aquarium in enough of the other color spectrum to look good. So, give your attention to the visual effects provided by the light and make sure you love it before making your buying.
Other factors to consider
As you probably have already found out when it comes to aquarium lighting you have a huge amount of choices and just as large difference in pricing. This includes not only the initial cost of the light system but also the cost of bulb-replacement and operating (electrical) cost. Some lighting systems may cost less initially but may require frequent bulb changes in order to maintain the intensity and spectrum of light being produced.
When selecting a lighting system for your aquarium, do a little research and carefully consider these questions to help you make your decision. Consider these things include the initiating as well as operating costs, heat dissipation, power consumption and the lifetime of the light before making your decision.