Best planted aquarium LED lights for growing plants – reviews & guides
Updated: August 17, 2017 - By:
Sieu Nguyen
Not all aquarium LED lights are beneficial for growing plants. The best LED light for planted aquarium is one that can provide not only appropriate color spectrums but also enough amount of lighting for all types of aquatic plants in the tank. There are some basic things you have to know for choosing a proper LED light for aquarium plants, and this article is written to help you choose the right one.
How to choose an LED light for planted tanks?
Choosing the right types – Kelvin Rating (K) from 6500 to 7000K
There are so many parameters of an LED light that makes you a headache to choose the right one for your planted aquarium. Firstly, make sure you use the right type that is intended for freshwater aquarium plants by considering on the Kelvin Rating (or color temperature.) The most appropriate color temperature range for planted aquariums is from 6.500 to 7,000K (Degrees Kelvin), which takes into account the color rendering property similar to natural daylight source from the sun.

Make sure you don't buy an LED light for reef tank which commonly feature a Kelvin rating ranging from 8000 to 20000K. That sounds like a stupid mistake; however, I have met someone do that. Using a wrong light can stress and kill all your aquarium plants.
Choosing a light that provides enough light (lumen per galon rule)
A value that precisely measures for the quantity of an LED light is lumen (Lm.) Based on the light demand of aquarium plants, they are divided into three groups:
Low light plants need approx 60 lumens per gallon (10-20 Lm/L).
Average or medium light plants need approx 110 lumens per gallon (20-40 Lm/L).
High light plants need over 150 lumens per gallon (> 40 Lm/L).
Reference: tropica.com.
If you use fluorescent light, the lumen can be converted into watt. So, there exists a thumb rule called "watt per gallon".
Low light demand plants need approx 1 watt per gallon.
Average or medium light demand plants need approx 2 watts per gallon.
High light demand plants need over 3 watts per gallon.
Please note that this rule can NOT be applied for LED light. For LED light, it is hardly to figure out a specific number that how many watts of lighting per gallon of aquarium water without the luminous efficacy (lm/W) provided by the manufacturer. Luckily, you can use either lumen or PAR values to determine if an LED light can provide enough lighting for your planted tank.
PAR values for low/medium/high light plants
Another important parameter is the PAR (Photosynthetically Active Radiation) value. This is a measure of the light radiation in the 400 to about 700 nanometer wavelengths which are essential for photosynthesis. PAR values of an LED light are usually provided by the manufacturer. For example, the PAR values of Current USA Satellite LED Plus PRO (one of the best LED lights for aquarium plants) are provided in the following picture.
Current USA Satellite LED Plus PRO PAR output
Different kinds of plants have different needs of lighting as well as other growth factors:
For low light plants: PAR from 15-30 is enough to grow them, CO2 is not needed, but is helpful to the plants
For medium light plants: PAR from 35-50 is relevant, CO2 may be needed to avoid too many nuisance algae problems
For high light plants: PAR should be higher than 50 to stimulate the healthy growth, pressurized CO2 supplier is essential to avoid major algae problems.
Reference: http://www.plantedtank.net/
Note: The PAR values in different positions in a tank are different, the farther positions from the light source, the lower PAR values they will get (as you can see in the previous picture.) Therefore, based on the types of plants you have in your aquarium, you should place them in proper positions. High light plants should be directly placed under the light to receive the highest PAR output, and low-medium light plants can be placed in peripheral regions of the tank.
Which fixture length should I need?
Because most manufacturers today will provide you the information of the types and sizes of aquariums that their products intend for, you can choose a proper LED light follow the aquarium dimensions. Just read which types are used for freshwater plants and choose the right fixture length for your aquarium.
Fixture length (inch)
10″-20″
24″
30″
36″
48″
72″
Tank size (gallons)
< 10 gal
20 gal high
20 gal long
29 gal
30 gal
50 gal
55 gal
75 gal
90 gal
> 125 gal
Other factors to consider
Bright LEDs and good amplification lenses
Although each LED bulb is very bright if we directly look at it, their light-emitting area is considerably small. In order that your entire aquarium could be adequately lit up, the light fixture should include more intense LED bulbs and use high-quality lenses to amplify the reflection angle of each bulb. So you should also consider the bright intensity and amplification ability of the LED light before buying.
LED controller/timer
A planted aquarium should be provided about 7-10 hours of lighting per day for the healthy growth of the plants. An LED light with controller/timer is a great choice if you don't want to turn on/off the light daily by your hands. If your LED light doesn't include any timer, you can easily buy one from an online store.
Heat dissipation and long lifetime
It is generally said that the heat emission of LED lights are low. However, it still emits heat when it converts the electric energy into light and higher-intensity LED lights emit a considerable amount of heat. Poor heat dissipation leads to a shorter lifespan of LED bulbs and other electronic components.
Best LED light for planted tank reviews
Current USA Satellite Plus PRO LED light with controller
LEDs: 6500K LEDs with high PAR output for growing most types of plants
Modes: adjustable daylight and moonlight, various weather lighting effects, custom modes
Controller: 24 hour on/off timer with transition periods, fully controllable
Ideal for: the most demanding planted tank
Legs: adjustable docking mounts
Available sizes: 18″-24″, 24″-36″, 36″-48″, and 48″-60″.
The Current USA Satellite Plus Pro is a wonderful LED light suitable for most types of aquarium plants. It is designed to produce better light and higher color rendition, and offer more controllable features compared to its predecessor. Its high output 6,500K white LEDs is ideal for growing even the most demanding plants while making you aquarium inhabitants vivid from view.
| | | | | | |
| --- | --- | --- | --- | --- | --- |
| Size | # of white LEDs | # of RGB LEDs | Watts | Lumens | PAR @ 12″ depth |
| 18″-24″ | 14 | 6 | 20 | 1500 | 100+ |
| 24″-36″ | 20 | 9 | 30 | 2000 | 100+ |
| 36″-48″ | 30 | 14 | 45 | 3100 | 100+ |
| 48″-60″ | 40 | 20 | 60 | 3800 | 100+ |
Information from: http://current-usa.com
Its controller offers incredible programmable ability allowing you to control almost everything of the light. It comes with an IR remote control and an included touch keypad for easy programming. The integrated 24-hour timer works even better than only turning on/off the light because it can stimulate sunrise (15 minute ramp up) and sunset (15 minute ramp down) effects in your aquarium.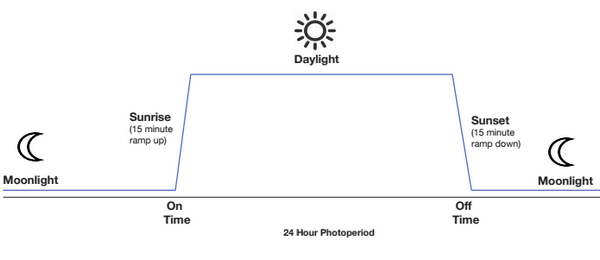 These effects are transition periods between day and night that help your plants acclimate with the light changes, and certainly it is better for your plants. The most advantage of this LED light is that you can fully customize the color spectrums and intensities of its daylight and moonlight by using color adjustment buttons on the remote control.
You will also love six dynamic preset weather modes from the Satellite Plus Pro which includes fading lunar, cloud cover, storm and lightning. These wonderful effects stimulate a realistic aquarium environment that makes the fish feel like they are in their natural habitats. There are also two memory buttons on the remote for memorizing your own custom color effects for use in any time you want.
Read the full review and user's manual: https://lovefishtank.com/current-usa-satellite-plus-pro-led-light/
Finnex Planted+ 24/7 fully automated aquarium LED with controller
LEDs: 7000K/multi-color blend for plant growth
Modes: daylight and moonlight, weather effects, and 

custom color modes.

Controller: a 24/7 timer controller included for automatic day and night light cycle
Ideal for: low to medium light planted tanks
Legs: clear legs are designed to perfectly fit various aquariums in various sizes and shapes.
Available sizes: 20″, 24″, 30″, 36″, & 48″
As you know, underground plants as well as aquatic plants only use light at daytime for the photosynthesis and they needs a cycle including both day and night to thrive. Over lighting doesn't help to grow plants, vice versa it can stress and kill the plants. The Finnex Planted Plus 24/7 LED light with its controller provides your aquarium plants with a lighting cycle that mimics the natural lighting cycle with sunrise and sunset to make the plants thrive.
24/7 feature
This function is named 24/7 feature which allows for automatic lighting cycle without the need of daily turning on/off the light by your hands. The 24/7 feature stimulates a lighting cycle of a day in nature that start with a cool lit dawn, transitioning into a warm sunrise morning, followed by an intense color blazing high noon, scaling down to a red sun drowned sunset, and finishing with a starry night blue moonlight.
Automated aquarium LED controller
If you do not want to use the preset 24/7 mode, there are so many presets and custom modes for you to choose. There are four buttons on the remote that allows you to activate day elements such as thunderstorms, cloudy days, sunny days, and moonlights. They are pre-programmed and very easy to use by a single click on the button you want. There are also four memory slots accessible via the IR remote control that allow you to customize and save your own countless color combinations and lighting intensities.
The light comes in various sizes for aquariums from small to large:
| | | | | |
| --- | --- | --- | --- | --- |
| Size | # of 7000K Daylight LEDs | RGB Cluster LEDs | Watts | Ideal for tanks |
| 20″ | 32 | 16 | 16.8 | 10 gallons |
| 24″ | 48 | 24 | 24.5 | 20 gallons |
| 30″ | 56 | 28 | 29 | 30 gallons |
| 36″ | 72 | 36 | 35.8 | 40-50 gallons |
| 48″ | 96 | 48 | 46.2 | 60 gallons |
For larger tank with many high light plants, you may need multiple fixtures.
Read the full review and user manual guide: https://lovefishtank.com/finnex-planted-plus-24-7-led-light/
Finnex FugeRay planted + aquarium LED light plus moonlights
LEDs: high output LEDs for growing aquarium plants
Modes: daylight and moonlight
Ideal for: low-medium light plants, refugium sump system setups
Heat dissipation: High quality fixtures for superious heat dissipation
Lifetime: 40,000+ hours
Available sizes: 12″, 16″, 20″, 24″, 30″, 36″, 48″.
Finnex FugeRay Planted+ aquarium LED features a slim design giving your aquarium a sleek and attractive appearance. It offers two lighting modes, daylight and moonlight. The very bright daylight with 660nm RED LEDs is ideal for growing aquarium plants. It is specifically designed for medium light aquarium plants. Beside to the daylight, it features an innovative moonlight technology that gives off an elegant light for evening or night time enjoyment. The moonlight mimics the realistic light from the moon at night for the health and vitality of your aquarium creatures.
Finnex FugeRay planted +
Its construction with high-quality aluminum is strong and durable. The aluminum construction offers not only good protection but also excellent cooling ability. It functions as a heat sync to dissipate heat away from the inner working space. An included splash guard works to keep the light fixture safe when it contacts moisture or splash of water. It comes with two adjustable legs that work greatly for most types of aquariums or sump tank setups.
Finnex Ray2 aquarium LED daylight for high light plants 
LEDs: 7000K Dual LED Strips with high PAR for growing high light plants
Modes: daylight
Ideal for: high light aquarium plants, promoting marine and freshwater growth, refugium sump
High quality fixtures for superious heat dissipation
Lifetime: 40,000+ hours
Available sizes: 18″, 24″, 30″, 36″, and 48″.
Finnex Ray2 provides stronger lighting than other LED lights in the market and can grow various types of aquarium plants from low to high light ones. Its dual trips of 7000K LEDs provide high PAR output for growing even the most highly demanding plants in your planted aquarium. It comes in a variety of sizes to fit the needs of various aquarium types and sizes.
The Finnex Ray2 is equipped with durable LEDs capable of serving you for up to 44000+ hours. To extend the lifespan of the LED bulbs even further, the light features circuit boards made of high-quality aluminum and the unit construction acts as heat sync for reliable cooling and heat dissipation. The light also features a moisture resistant PC splash guard to protect it against water mishaps.
Beamswork DA 6500K 0.50W series LED light
LEDs: 0.50-watt LEDs including 6500K white LEDs and actinic LEDs
Modes: daylight, nightlight
Ideal for: medium high light aquarium plants
Available sizes: 24″, 36″, and 72″.
The Beamswork DA 6500K is high quality and energy efficient LED light fixture from Beamswork. This is one of the most affordable LED lights for aquarium plants currently in the market making it an ideal choice for those new to planted freshwater aquariums. It is equipped with versatile 6500K LEDs that provide high lumen output for medium to high light plants.
| Size | # of 6500K LEDs | # of actinic LEDs | Lumens |
| --- | --- | --- | --- |
| 24″ | 52 | 8 | 3100 |
| 36″ | 84 | 16 | 5000 |
| 72″ | 144 | 32 | 8000 |
It is currently available only in three sizes including 24″, 36″, 72″ for small to large planted tanks. It is pre-wired for use with an optional timer from Beamswork (buy separately) that allows you to program on and off times of the light for free-hand control.
Marineland aquatic plant LED light with timer
LEDs: 6500K high output LEDs for growing aquarium plants
Modes: daytime and lunar settings
A timer allows for turning on/off the light automatically
Ideal for: low-high light demanding planted aquariums, refugium sump system setups
Mounting legs can be adjustable for a secure fit
Available sizes: 18-24″, 24-36″, 36-48″, 48-60″.
Lumen and PAR information of this LED light is available for you to calculate what and how many fixtures are perfect for your planted aquarium. Based on the PAR information from the manufacturer, you can consider that the light provides enough light for high light aquarium plants in the middle section of the tank (see the following picture).
Marineland aquatic plant LED light PAR output
| Size | # of 1W White LEDs | # of 3W Blue LEDs | Lumens |
| --- | --- | --- | --- |
| 18″-24″ | 18 | 3 | 1740 |
| 24″-36″ | 23 | 4 | 2240 |
| 36″-48″ | 36 | 6 | 3480 |
| 48″-60″ | 46 | 8 | 4480 |
The 1 watt 6500K white LEDs provide your plants with the correct light energy for photosynthesis. The 3 watt RGB LEDs that provide 460nm blue which encourages the growing of freshwater plants, 660nm red which encourages "reaching", and green which bring out the natural beauty of your aquatic plants.
Wonderfully, you'll never have to worry about your plants when you have a long day travel because the integrated timer of the lighting system allows you to control when the RGB and 6500K LEDs turn on and off. Besides, you can manually turn each on or off with a single button. With this light, aquatic plants undergo photosynthesis more vigorously and grow healthier.
Finnex Stingray aquarium LED light for low light plants
LEDs: 7,000K daylight LEDs, actinic blue LEDs and 660nm red LEDs
Modes: daylight and moonlight
Ideal for: anubias, bolbitis, ferns, mosses and other low light plants
Legs: clear plastic legs and a pair of mounting clips for flexible uses
Available sizes: 10″, 12″, 16″, 20″, 24″, 30″, 36″, & 48″.
The Finnex Stingray is the best choice for low light plants such as anubias, bolbitis, fern, mosses and other aquarium plants belonging to this category. Its spectrum is the combination of three different light colors to achieve great viewing and plant growth benefit. The 7000K LEDs provide bright white light to lighten up the entire tank while the 660nm Red and Actinic Blue LEDs enhance the color of your aquarium inhabitants. The 660nm Red LEDs are proven to provide true wavelength for photosynthesis activity of aquarium plants.
It is very flexible for you to set up the the Finnex Stingray LED light. It comes with clear plastic legs for attaching it on the top of your aquarium and a pair of mounting clips if you want to place it inside a hood. The Finnex Stingray is available in different sizes for small to large tanks making it easy to find one that fits your aquarium.
Beamswork EA Timer FSPEC LED light
Modes: day and night
Ideal for: low light freshwater plants, cichlid fish tank
Extendable brackets
Available sizes: 18″, 24″, 30″, 36″, 48″, 60″, 72″.
Beamswork is known with its LED lighting products that are reliable but usually come with prices nearly cheapest in the market. Beamswork EA Timer FSPEC LED is also a very cheap and reliable LED light that is ideal for starters' tanks with low-light plants. The lumen information of different fixture lengths is provided in the following table.
| | | | | | | | |
| --- | --- | --- | --- | --- | --- | --- | --- |
| Size | 18″ | 24″ | 30″ | 36″ | 48″ | 60″ | 72″ |
| Lumens | 1000 | 1200 | 1700 | 2000 | 2500 | 3000 | 3600 |
There is a timer from the same manufacturer (sold separately) specially designed for this LED light which helps you to control when the day light or is turned on or off. You should buy the timer to automate this process.
FAQs about LED lights for planted tanks
Why choose an LED light for aquatic plants?
Among various growing conditions of aquarium plants in nature such as substrate, nutrient salt concentration, and the presence of water flow to mention a few, the most important condition is light. This can be seen from the fact that no aquatic plants are distributed in deep waters where underwater light intensity is so low that plants are unable to perform photosynthesis.
Unlike in the air, selective absorption of specific wavelengths is significant in underwater environment. Red wavelengths are rapidly attenuated in water while blue wavelengths can reach deep water without being subjected to high attenuation. Based on this fact, it is believed that aquatic plants use blue light to effectively perform photosynthesis in water.
Modern LED aquarium lighting contains more blue wavelengths of the spectrum than ordinary fluorescent lamps based on this concept. With this type of light, aquatic plants undergo photosynthesis more vigorously and grow healthier. Besides, LED lights are brighter, consume less energy, and live longer than other lights, making them a great choice for planted aquariums today.
What happen if the light is provided too much?
Green plants, including those of an aquatic nature perform respiration as well as photosynthesis. If their photosynthesis process is undertaken in low-intensity lights, the energy produced from photosynthesis is exhausted by the plants' respiration activity and will not be used for their growth. The light intensity where the production rate during photosynthesis and the consumption rate during respiration are equal is called the light compensation point. Plants can't grow if the intensity of available lighting is not higher than the light compensation point.
The light intensity where the plant reaches its maximum rate of photosynthesis is called the light saturation point. Even if the light intensity exceeds this light saturation point, the rate of photosynthesis will no longer increase but rather, it may decrease due to photo-inhibition. When growing aquatic plants in an aquarium, the light intensity must exceed the light compensation point and preferably, it should be as close as the light saturation point for the better growth of the plants.