Finnex Planted+ 24/7 LED light review & user's manual guide
Updated: December 23, 2017 - By:
Sieu Nguyen
Finnex Planted+ 24/7 Fully Automated is an LED light for planted tanks, which excellently promotes the healthy growth of aquarium plants. Working more than a normal fish tank LED light with only turning on/off modes, it comes with a smart timer for free hand control, high output LED lamp for growing most types of aquatic plants, and customizable color effects for the stunning view. This review aims to help you get the proper understanding of this LED light as well as how to use it.
High output 7000K daylight LEDs for growing high light plants
Finnex Planted+ 24/7 LED light with remote
The Finnex Planted+ 24/7 is designed to take care of most types of plants in your aquarium. To facilitate proper light provision, the fixture is fitted with powerful LED bulbs which have the capacity to deliver 7000K daytime light. This light is beneficial just like natural sunlight as it allows aquarium plants to photosynthesize normally.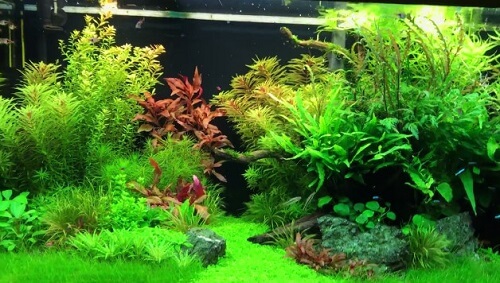 The light is equipped with high quality LED bulbs which are able to last over 40000 hours. These LED bulbs includes true 660nm red LEDs which are proven to be one of the best wavelengths for the photosynthesis of aquatic plants. With an LED spread of 120 degrees, the light is able to lighten up your entire aquarium to support the plant growth, even in corner areas. The manufacturer recommend the light for low/medium/high light needy aquarium plants.
24/7 automatic lighting cycle for free hand control
Plants in your aquarium need only 8-10 hours of lighting a day for photosynthesis. Over lighting is not only NOT beneficial but also harmful to your fish and plants. That is the reason why you need to turn on and off the aquarium light every day to ensure the health of your aquarium livestock.
Luckily, you don't have to turn on/off the aquarium light daily by your hands with the Finnex Planted+ 24/7 LED light because it is built with a controller which ensures everything is automatic. The controller is preset with a 24/7 automatic lighting cycle for hands-free operation. The 24/7 feature mimics the sunrise and sunset in nature which gives the aquarium an outdoor like condition.
24/7 feature
The 24/7 automatic lighting cycle begins with a cool lit dawn, which then transitions into a warm sunrise morning, to an intense color blazing high noon, to a red sun drowned sunset, and finishes with a starry night blue moonlight. The lighting cycle repeats itself in real time on the following day. The cycle is automatically directed by a built-in controller, thus eliminating the need of daily monitoring of the fixture.
How to program 24/7 feature and user's manual
How to program 24/7 feature
Programming 24/7 feature is simple and straightforward due to the well-labeled buttons. First, press the 24/7 button to engage 24/7 mode. Then, press a time button which is closest to your present time. Finally, press the 24/7 button again to save and confirm your settings, and the fixture will automatically switch to the light at the time you set.
You only need to set the correct time once and the timer will remember it, even after returning from other modes to 24/7 mode. The only drawback of this LED light is you can't adjust the light intensities of specific times in the pre-programmed 24/7 mode.
Download the complete user's manual for programming and safety use here. Read customer reviews.
Various preset lighting and weather modes ready to use
Apart from ensuring proper plant growth, the Finnex Planted+ 24/7 is also included with blue, green, red LEDs which offers various wonderful lighting effects for great enjoyment at day and night time. It comes with some ready-to-use preset modes if you don't want to use the 24/7 preset mode.
Preset lighting and weather mode buttons
The equipped IR remote gives you the ability to induce various lighting and weather effects including blazing thunderstorm, cloudy days, sunny days, and moonlight effect. It's a breeze task without any complication to use these lighting and weather modes. The lighting effect buttons on the remote control are labeled to the corresponding functions: cloudy, thunder, sunny and moon. Therefore, to engage your required mode, just press the corresponding button.
Note: If you are using the 24/7 mode, weather modes, custom color buttons, and memory slot buttons will not function. You need to close the 24/7 mode by pressing the 24/7 button before setting these modes.
Apart from the weather modes, you can create your own lighting effects and save them for later use. There are four memory buttons (M1, M2, M3, and M4) on the remote control for you to do that work. These memory slots are ideal for you to save numerous color combinations and light intensities. These functional buttons are ideal when you don't want to use the 24/7 feature.
The controller with remote control allows you to fully customize and store your preferred lighting colors. You can dim each of four color channels (blue, green, red, and white) to meet optimal colors that give your planted aquarium an attractive appearance. To save a preferred lighting color, only press one of the memory buttons. Then, to access the stored color, press the corresponding memory button and the last saved color will appear.
High quality fixture and convenient mounting legs
The fixture is built with high quality aluminum which allows for ample cooling and superior heat dissipation. Water resistant splash guard provides it extended durability. There are various sizes available for choosing from 20 to 48 inches.
| | | | |
| --- | --- | --- | --- |
| Length | Watts | 7,000K Daylight LEDs | RGB Cluster LEDs |
| 20 inches | 16.8 | 32 | 16 |
| 24 inches | 24.5 | 48 | 24 |
| 30 inches | 29 | 56 | 28 |
| 36 inches | 35.8 | 72 | 36 |
| 48 inches | 46.2 | 96 | 48 |
Mounting the Finnex Planted+ 24/7 into your aquarium is smooth and takes minimal time with its unique leg fixture. The legs can slide inwards, hence allowing flexible installation to various sized aquariums or sump setups. Moreover, the fixture legs have removable portions to ensure snug fitting to large aquarium rims.
Verdict
In conclusion, the Finnex Planted+ 24/7 LED is an all-in-one LED light in the market today. It is constructed from high-quality LED bulbs which ensure proper aquarium illumination. Apart from lighting up the aquarium, it provides enough light intensity for active aquarium plant growth. In addition, the programmable modes, dimmable lights, and memory functions render it an ideal light for planted aquariums.
Finnex Planted+ 24/7 LED light