Best 25-watt aquarium heaters for up to 5-gallon tanks
Updated: December 23, 2017 - By:
Sieu Nguyen
A 25-watt aquarium heater is a right option to maintain the water in a nano fish tank (under 5 gallons) in an optimal temperature range. This article reviews some of the best small aquarium heaters you can use for a small tank or Betta tank.
Marina C10 Compact heater 25-watt for 5 gallon fish tanks
Type: fully submersible
Wattage: 25W
Temperature: preset to 78 degrees Fahrenheit
Ideal for: 5 gallon fish tanks freshwater or saltwater, Betta fish tanks
Other sizes: 10-watt Marina C10 for nano tanks up to 2.65 gallons.
The Marina C10 Compact heater is ideal for nano aquariums up to 6.6 gallons with Bettas, small tropical fish, and shrimps. It is designed to maintain the preset temperature of 78 degrees Fahrenheit (26 degrees Celsius) without requiring any adjustments. The Marina C10 features a compact design with an exterior made of tough polymer resistant to crack or shatter.
The heater features a convenient LED lamp that illuminates when the heater is functioning. It is able to shut off automatically when not submerged, which protects the heater from damages by running fry. It comes with two suction cups for secure and easy installation.
Cobalt Aquatics Neo-Therm 25W – best small aquarium heater
Type: fully submersible
Wattage: 25W
Temperature range: from 66 °F to 96 °F
Ideal for: 2.5-5 gallon tanks, Betta tanks.
The Cobalt Aquatics Neo-Therm heater features a modern and flat design with an effortless "single touch" control system. By simply pressing a button on its top, you can adjust the heater to your desired temperature. The heater offers an adjustable temperature range from 66 °F up to 96 °F with ±0.5 °F of accuracy. There is also an LED display to show you both the set temp and tank temp simultaneously.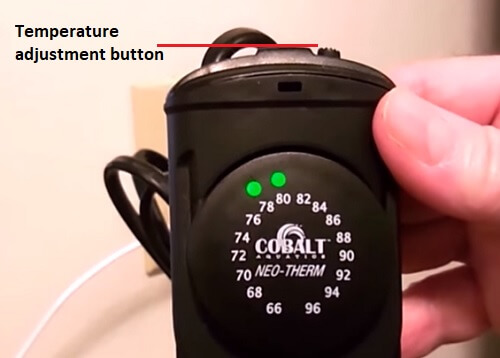 For reliability and safety, the Cobalt Aquatics Neo-Therm is built with an integrated thermal protection circuitry which automatically shuts it down to prevent overheating. Thanks to its shatterproof outer casing, the heater is more durable and indestructible, which means it will serve you for a long time without requiring replacement. It is suitable for both freshwater and saltwater applications.
Mini Temperature Controller Thermostat 25W heater
Type: heater controller with heating tube
Wattage: 25W
Temperature range: from 20 °C to 30 °C
Ideal for: 5-20 liter aquariums.
The Mini Temperature heater controller is an excellent and versatile device that allows aquarium owners to measure and control the temperature in their fish tanks. It features a unique, compact design making it one of the best small aquarium heaters for nano tanks. It can measure and control a temperature range from 20 to 30 degrees Celsius.
Unlike other submersible heaters, this one comes with a heating tube and a controller. The controller, which is placed outside the aquarium, directs the work of the heating tube. The heating tube is fully submersible in aquarium water and comes with two suction cups for easy installation. This design makes it convenient for you to adjust the temperature without getting wet your hands.
Marina submersible heater mini for tanks up to 5.5 gallons
Type: submersible heater
Wattage: 25W
Temperature range: 68 °F to 82 °F
Ideal for: aquariums up to 5.5 gallons
Other sizes: 50W one for tanks up to 10 gallons.
Fluval Marina 25-watt mini aquarium heater is specifically designed for the owners of nano fish tanks. It provides reliable heating for saltwater or freshwater aquariums up to 5.5 gallons. With just a little adjustment of the temperature set dial on its top, you can set the heater to a proper temperature range for the health and vitality of your aquarium pets. The temperature heating range, 68 °F to 82 °F, is broad enough to response the requirements of various aquarium types.
The heater is designed for long lasting with its impact-resistant glass design and water proof sealing. It is very easy to install and use with an easy-to-access temperature set dial, a bumper guard for fish safety, and an on/off pilot light indicator. It also comes with a suction cup bracket for easy and secure setup.
Hydor THEO submersible glass heater 25W for 2-7 gallon tanks
Type: submersible
Wattage: 25W
Temperature reading: degree Celsius
Ideal for: 2 – 7 gallon aquariums (10-25 liters.)
This is a 25W heater from Hydor, which is capable of achieving and maintaining the precise temperature you set. On the of it, there is an adjustment knob for you to set your desired temperatures. It features an LED light indicator which alerts you when the unit is turned on. The heater features an exclusive PTC technology that protects itself from running dry. It also features high-quality components that are water and shatter proof allowing it to be submersible and last for a long time of use.