Best 10 gallon fish tanks & aquarium kits
Updated: January 28, 2019 - By:
Sieu Nguyen
A 10 gallon fish tank can perfectly fit on a desk or stand making it perfect for the internal decor of your home or office. You can stock some kinds of freshwater tropical fish such as Guppies, Dwarf Gouramis, Dwarf Rasboras… and shrimps healthily in a 10 gallon tank. A fish tank with 10 gallons of water also provides an abundant house for one male Betta and some tank mates to live longer and better.
Following are some of the best 10 gallon fish tanks for you to choose.
Marina LED 10 gallon aquarium kit

(5/5 by editor)
Check on Amazon.com
Tank: a 10 US gallon glass fish tank with hood
Dimension: 20″ L x 10″ W x 12.5″ H
Lighting: LED light with natural daylight effect
Filtration: Marina Slim S15 clip-on filter with quick-change filter cartridges
Others: thermometer, fish food, fish net, cycle biological supplement, water conditioner, and care guide.
This is the best 10 gallon aquarium kit in this review. The very clear glass tank, powerful filter and some other wonderful features from the kit have satisfied almost people from beginners to advanced hobbyists.
The main tank is made of high-quality glass, so you don't need to care about scratches appearing after cleaning it.
Marina LED aquarium kit 10 gallon
The tank comes with a black plastic hood with white LED lighting. The hood has a hinged design making it easy to open and close. There are pre-drilled hoses on the hood for you to set up aquarium equipment. An LED lighting system, which provides natural daylight, is already included under the hood.
The Marina Slim S15 clip-on filter (Hang-On-Back filter) is the most efficient filtration system compared to other filters rated for a 10 gallon tank. It operates so quietly. You can adjust its flow rate to achieve the noise you can accept and the mind water flow your fish feel comfortable.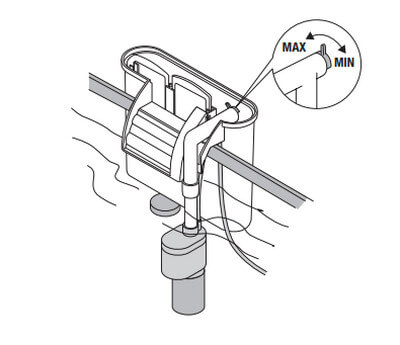 Adjustable flow control
The filter uses Bio-Carb and Bio-Clear cartridges containing ceramitek (highly porous ceramic), zeolite and activated carbon to completely purify aquarium water. By this way, it provides your pet fish with the best environment to live healthily.
The package comes with fish food to keep your fish healthy, Aqua Plus water conditioner to ensure tap water safe for fish, and cycle biological supplement to create a cycled and healthy aquarium environment. An aquarium care guide is also included so that even a beginner could fulfill his/her first aquarium setup.
The product don't include a heater, so you have to buy one if you want to keep tropical fish. A 50-watt aquarium heater is perfectly suitable for the tank. A stick-on thermometer is already included for you to easily read the aquarium temperature. Just peel off the back of the thermometer and stick it on the outside wall of the aquarium, a blue color spot will appear soon to indicate the temperature.
Conclusions, if you only want a common rectangle tank for stocking fish but not other special shapes, I'm sure that the Marina LED aquarium kit will be your sound decision.
Read the full review: https://lovefishtank.com/marina-led-aquarium-kit/
Aqueon 10 gallon aquarium starter kit

(4.5/5 by editor)
Check on Amazon.com
Tank: 10 gallon glass fish tank with hood
Dimensions: 20-1/4″ L x 10-1/2″ W x 12-9/16″ H
Lighting: LED lighting
Filtration: Quiet Flow 10 LED Pro power filter with Medium cartridge
Heater: 50W preset heater and thermometer
Additives: tropical flake sample, water conditioner sample, fish net, setup guide.
The Aqueon 10 gallon aquarium kit comes as a complete kit including all necessary equipment and supplies for starters to their first aquariums.
The main tank is made of clear glass, its walls are sealed with epoxy resin. The construction is highly durable for many years of enjoyment.
It comes with a black plastic hood with some pre-cut holes for positioning necessary equipment. It is very easy to open the lid to access inside the aquarium for easy setup and maintenance. There are three LED light rails under the hood to provide bright white light for the entire tank.
The Quiet flow 10 LED Pro filter is very quiet and you don't have to worry about the noise produced. It uses a filter cartridge and its internal system to purify the water through multi steps.
Aqueon QuietFlow filtration system
Five-stage filtration
A wonderful feature of this filter is the LED indicator on its top that is able to monitor actual water levels to know when the filter cartridge is clogged and need to be changed. So, you don't have to worry about forgetting to change the filter cartridge that is not good for your fish health.
An aquarium heater and a stick-on thermometer are also included to keep the water temperature at a constant range around 78 degrees Fahrenheit for tropical fish. If you want to own a fish tank with tropical fish, this is an all-in-one aquarium kit to choose.
Aqueon 10 gallon blank glass tank only

(5/5 by editor)
Check on Amazon.com
Tank: 10 gallon standard glass aquarium
Dimensions: 20-1/4″ L x 10-1/2″ W x 12-9/16″ H
Used For: tropical fish, saltwater fish
Note! This is a fish tank only without hood and accessories.
You don't want to buy aquarium kits because their filter, heater or anything else don't satisfy you, just buy a blank fish tank and choose your favorite equipment. This tank is a very cheap and affordable option for you.
10 gallon rectangle glass tank
The tank is well packed to avoid breakages upon coming. There is nothing to complain about its quality, the tank in the picture is exactly what you will get. So I only help you to choose the right accessories for the tank in this section.
Imagitarium Brooklyn 10 gallon aquarium stand
Aqueon Aquarium AAG29020 versa top
The tank has dimensions of a standard 10 gallon rectangle aquarium, so a 10 gallon aquarium stand and hood will perfectly fit it. I recommend you to use two previous products for the tank.
If the hood you choose isn't included with an LED light, buy one separately. A 20-inch LED aquarium light with extendable brackets is the right choice. If you want to have photosynthetic organisms such as plants or corals in your tank, ensure that you provide an appropriate lighting for them to grow.
For choosing a filter for this tank, choose one that can filter an amount of water that is 4 times more than the tank capacity. That mean the filter you choose should have a flow rate of over 40 gallons per hour. A filter with the right flow rate ensures the water constantly filtered and your fish happy. Find a 10 gallon aquarium filter now!
If you are planning to build a tropical fish tank, a heater is an indispensable thing. A 50-watt aquarium heater is just enough to keep an aquarium with 10 gallons of water at a desired temperature range.
Penn Plax curved corner glass aquarium kit

(4.5/5 by editor)
Check on Amazon.com
Tank: a curved corner glass fish tank, 10-gallon
Dimensions: 17.75″ L x 11.75″ W x 12.63″ H
Lighting: LED lighting
Filtration: Penn Plax Cascade 300 internal filter and cartridge.
The Penn Plax curved corner glass aquarium kit is well-known as an innovative high-quality glass fish tank with a great design. The curved glass corners makes it eye-catching and great to view from any angles.
The hinged top facilitates easy access for aquarium setup and maintenance. The top is made of clear plastic that allows lighting to transparent, so it is ideal to set up an LED aquarium light above. By this way, the top at the same time protects the light from the aquarium moisture and expands its lifetime.
The kit comes with a clip-on LED aquarium light that is very easy to mount on the back edge of the tank to brighten up the entire tank. Thanks to the clear top of the tank, you can easily update the lighting system as you want to fit your aquarium creatures's needs.
Penn Plax Cascade 300 internal filter
Unlike other aquarium kits, the filter of this kit is an internal filter that is placed and works inside the aquarium. The Penn Plax Cascade 300 features a filtration capacity larger than other internal filters for better filtering the aquarium water.
The filter is included with a bio-foam and an activated carbon cartridge to perform all three stages of filtration mechanical, biological and chemical. Thanks to its large capacity, you can also choose your favorite filter media to use.
The filter features a maximum flow rate of 70 gallons per hour and is rated for fish tanks up to 10 gallons. It comes with a spray bar that tears the output water in small flows to better aerate the tank. There is a flow control sliding bar on the top of the filter for you to adjust the output water speed to achieve a comfortable environment for your fish.
These previous exceptional features make the kit stand out among other 10 gallon aquarium kits on the market today. The kit can be used for both saltwater or freshwater applications. It is an ideal choice for hobbyists who want to keep a small aquarium on their working tables.
Fluval FLEX 9 gallon nano glass aquarium kit

(4.5/5 by editor)
Check on Amazon.com
Tank: 9 gallon glass fish tank
Dimension: 16″ W x 13″ D x 13″ H (34 x 33 x 33 cm)
Lighting: 7500K LED light with remote control
Filtration: back panel filtration system.
Being a new product from Hagen Fluval – one of the best aquarium product supplier, the Fluval FLEX 9 gallon owns many powerful and unique features that you can't find in other aquarium kits.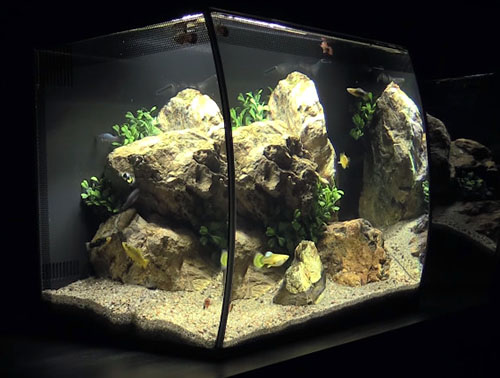 The front glass panel of the tank is vertically curved to offer a stunning view when you enjoy it from the front. It makes a feel that your fish and plants look a bit bigger, gorgeous and lively.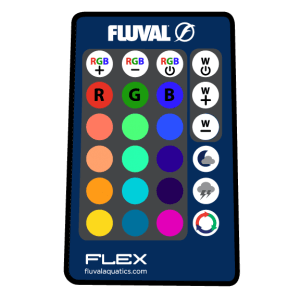 The 7500K LED light attached under the lid provides bright white daylight to support the growth of aquarium plants. The light also offers you to customize its colors to reach your desired lighting effects. Moreover, there are an automatic lighting cycle and two preset lighting effects ready to use on the remote control.
Back panel filtration system
The back panel filtration system is a unique feature of the Fluval Flex aquarium. It includes three compartments: the left for containing a water pump and a heater as well as other equipment, the middle for containing filter media, and the right for withdrawing the water.
The pump operates the entire system by creating water flows from the right to left compartment. When the water goes through the middle compartment containing a huge amount of filter media, it is filtered. You can place various types of filter media in the middle compartment to perform the most efficient multi-stage filtration.
Fluval Edge 12 gallon fish tank

(4.5/5 by editor)
Check on Amazon.com
Tank: 12 gallon sealed glass aquarium
Dimensions: 17″ W x 14.3″ D x 22.2″ H
Light: 42 LED bulbs – 39 bright white 7600 K high luminosity LEDs and 3 deep blue night-time LEDs
Filtration: Fluval power filter
Additives: Nutrafin Cycle and Nutrafin Aquaplus water treatments.
Fluval Edge 12 gallon is a creative and unique fish tank manufactured by Hagen Fluval. The six glass side from the tank provides a modern look to complement any room in your home or office. When the main tank is full of water, there is a small vent under the lid where the water level rises to. By the unique design, the Fluval Edge fish tank offers an appearance as though there is no air at the top.
Due to the cutting edge design with a glass top, you can enjoy your fish and plant greatly from any angles around the tank. And because of the glass top, there will be less evaporation which reduces maintenance whilst the hidden filtration system allows oxygen exchange to keep your fish healthy.
Fluval Edge replacement power filter
The tank is built with a Fluval power filter which is stylishly placed behind the main tank and hidden from view. The powerful filtration system with CycleguardTM well performs a 3-stage filtration that completely purifies the water to provide a clean and healthy environment for your fish and shrimps.
The filter operates so quietly, it provides gentle water flows that combine with the LED lighting to create a visually stunning shimmering effect that you can't see in other aquariums.
The LED lighting system includes 39 bright white 7600K high luminosity LEDs and 3 deep blue night-time LEDs for day and night lighting modes. The 39 high luminosity 7600K LEDs provide bright white lighting for the tank and make it ideal for setting up a planted aquarium.
The Fluval Edge 12 gallon is sometime used to build a reef tank, this is not an easy work for a small aquarium. However, you can imagine the great beauty of a nano-reef system built with the Fluval Edge aquarium.
Read the full review: https://lovefishtank.com/fluval-edge-aquariums-6-12-gallon/
Tetra 29234 Half Moon 10 gallon aquarium kit

(4.5/5 by editor)
Check on Amazon.com
Tank: 10 gallon half-moon glass aquarium with clear lid
Dimensions: 18.5 x 12.6 x 20.8 inches
Lighting: LED lighting
Filtration: Tetra Whisper power filter and cartridge
Heater: a 50-watt heater.
Tetra 29234 Half Moon aquarium kit has satisfied most customers by its unique shape with a 180° curved glass front that allows for 180-degree seamless view. Many customers have bought the tank just because of its attractive half-moon design with the frameless top edge.
The tank is taller than a normal regular rectangle tank so it is perfect for a narrow/tall dresser and ideal for raising many beautiful tall stem plants such as Green Myrio, Cabomba, Green Rotala… However, because of being narrow and tall, the tank has less surface area than a common rectangle tank and it may minimize the types and amounts of fish you can keep.
Tetra 29234 half moon aquarium kit 10 gallon
The only disadvantage of this half moon aquarium kit is its top. It is a piece of flimsy plastic with pre-cut holes for placing accessories and feeding your fish, which are so large that some fish can jump out and die. To solve the problem, you could lower the recommended water height to prevent the fish to jump out; however, the quiet of the filter and swimming space for fish may be lost.
I only recommend the tank for Betta, guppies, shrimps and other small tropical fish. Take attention to guppies that can easily escape from the tank through the pre-cut hoses of the top. The small surface of the tank isn't suitable for active and large-body fish such as Neon Tetra, Zebra Danio, Goldfish…
Marineland 16336 Bio-Wheel aquarium kit, 10 gallon

(4.5/5 by editor)
Check on Amazon.com
Tank: 10 gallon glass fish tank
Dimension: 20″ L x 10″ W x 12″ H
Lighting: LED lighting with 22 white and 2 blue LEDs
Filtration: Penguin 75 bio-wheel power filter with Rite Size A cartridge
Heater: a fully submersible 50W heater and thermometer
Ideal for: freshwater or saltwater setup
Additives: fish net, Tetramin tropical flake, AquaSafe water conditioner sample.
Marineland 16336 Bio-Wheel aquarium kit comes as a complete kit which includes all the necessary things for installing a tropical aquarium.
It comes with an LED light with 22 white and 2 blue LEDs for day and night lights. The light is easy to control with a 3-position switch for on, blue and off modes.
What makes it unique from other kits is the Penguin 75 filter with a bio-wheel, which works in a completely different way from other power filters on the market.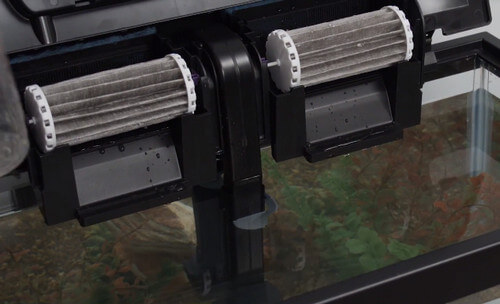 Bio-wheels (illustrating image, NOT belong to the product) 
The bio-wheel rotates during operation to enhance aeration on its surface that supports the build up of helpful aerobic bacteria. These microorganisms well-known contribute to a healthy and established fish tank that is free of nitrogenous toxins (ammonia and nitrite) and ideal for stocking fish.
It comes with an aquarium heater with thermometer for tropical fish tank setup. Like other kits, some additives and supplies such as fish food, net, conditioner are also included.
If you are a fan of power filters with bio-wheels, the kit is a great choice to start with.