Best fish tanks & aquarium kits – reviews & buying guide
Updated: January 28, 2019 - By:
Sieu Nguyen
Once you decide to buy a new fish tank, choosing the best fish tank that can provide a great habitat for you pet fish in a long period. There are many questions you need to answer when considering an aquarium: glass or acrylic, fish tank only or a full kit with equipment, nano or large tank… Besides, the shape and dimensions of the tank are also important factors to consider when choosing a house for your aquatic friends. So what is the best fish tank for a beginner? All the answers you need is in this article.
Best fish tank for sale reviews
Marineland Contour Glass 3 gallon aquarium kit
Tank: 3 gallon curved glass aquarium
Dimensions: 12″ W x 12″ D x 12.5″ H
Canopy: glass canopy that can slide to the back for daily feeding
Lighting: rail light with bright white and blue settings
Filtration: hidden filtration system with an adjustable flow filter pump
Filter media: RITE-SIZE Z Filter Cartridge, Bio-Foam.
This fish tank features a sleek curved design and can hold up to three gallons of water, making it an ideal choice for one male Betta. It comes with a rail LED light hanging over the tank and you can set the light to either daylight (white) or nightlight (blue) setting. The lid is made of clear glass that allows the light to go through. You can easily slide the lid back to clean the tank or to feed your fish.
The tank incorporates a 3-step filtration system in its back which is hidden from view while doing its works to keep the tank clean. This special filtration system is powered by an adjustable flow water pump that keeps the water constantly flowing. It uses a Rite-Size Z filter cartridge that is included with activated carbon to remove any unwanted particles, odors, discolorations, and impurities in the water. Besides, the Bio-Foam performs biological filtration to keep your aquarium inhabitants healthy.
Tetra 29095 Cube 3-gallon aquarium kit
Tank: 3 gallon cube plastic aquarium with pedestal base
Dimensions: 10″ W x 10″ D x 10.512″ H
Ideal for: small tropical fish, Betta
Lighting: LED lighting
Filtration: Tetra(R) 3i filter with Tetra(R) Whisper Bio-Bag Small Cartridge
Others: low voltage power adapter, setup guide.
This 3 gallon fish tank is made of a clear plastic so you can easily look inside the tank to see your fish. This clear plastic is very durable so you don't have to worry about it scratching or breaking easily. The bottom of the tank features a pedestal base which helps to lift the tank's body up and adds a unique design to it.
This fish tank comes with an LED light, an internal filter, and a lid. The Tetra Whisper 3i power filter help to better keep your fish tank clean and free of debris. The lid has a feeding hole in it which offers you to easily feed your fish. If you're looking for a small and simple fish tank that is easy to set up and maintain, this product is ideal for you.
Marineland ML90609 portrait 5-gallon aquarium kit
Tank: 5 gallon curved glass aquarium
Dimensions: 11.8″ L x 11.8″ W x 16.8″ H
Canopy: glass canopy that can slide for access inside the tank
Lighting: a hinged light with white LEDs and blue LEDs for daylight and moonlight settings
Filtration: 3-stage hidden back panel filtration with adjustable flow filter pump
Filter media: Rite-Size Z Cartridge, bio-foam.
This portrait shaped fish tank can hold up to 5 gallons of water. The tank is made of clear glass and features curved edges. Behind the tank is a hidden panel where the filtration system is located. This 3-stage filtering system uses a Rite-Size Z Cartridge, Marineland Bio-Foam, and an adjustable flow filter pump to help keep your tank clean. Sometimes these filters though can be a little difficult to adjust if you need to do so.
The glass canopy can slide over the tank for easy access to the inside for feeding your fish as well as maintenance. Near the glass top is a hinged LED light that features a 3-way switch to toggle between different lighting settings. You can either turn the light on to a daylight (white) or nighttime (blue) setting or turn it off by using the 3-way switch.
Fluval Edge 6 gallon fish tank
Tank: 6 gallon sealed glass aquarium
Dimensions: 17″ W x 14.3″ D x 13.7″ H
Available colors: black, silver, white
Light: LED lighting system under the hood with 3-position switch for daylight, nightlight and off
Filter: Fluval power filter with CycleguardTM
Additives: Nutrafin Cycle and Nutrafin Aquaplus water treatments.
The Fluval Edge 6 gallon fish tank features a special design that allows you to enjoy the tank from any sides including the above, bottom, and around of it. Being made of clear glass along with the special design, this unique fish tank from Fluval can attract anyone from starters to advanced hobbyists. There are two sizes for you to choose: 6 and 12 gallons. It also comes in a few color options: black, silver, and white.
The Fluval Edge comes with a pedestal column that hides all equipment and wires, and makes the tank stylish from view. Inside the pedestal column is the powerful filtration system of the tank. The 3-stage filtration system includes an edge filter with CycleguardTM and Biomax to provide the most advanced biological filtration that keeps the water cleaner and free of ammonia and nitrite.
Fluval Edge LED light
Another great piece of this product is its LED light that is very bright and great for a planted aquarium setup. The LED light system, is attached under the hood, comprises 21 LED bulbs (18 white 7600K and 3 deep blue). The light features a 3 position switch for you to toggle between bright daytime, deep blue nighttime and off.
Read the full review of this beautiful aquarium: https://lovefishtank.com/fluval-edge-aquariums-6-12-gallon/
Marina LED 20 gallon aquarium, best kit for beginners
Tank: 20 gallon fish tank made of long-lasting glass
Dimensions: 24″ L x 12.5″ W x 16.5″ H
Filtration: Marina Slim S20 clip-on filter with quick-change cartridge
Lighting: natural daylight LED light incorporated into the canopy
Additives: fish food, Aqua Plus water conditioner, cycle biological supplement, fish net, aquarium care guide.
If you are new to fish keeping hobby and don't know where to get starting your first fish tank, the Marina LED 20 gallon aquarium kit is my recommend. The kit comes with most things a beginner need to set up his/her aquarium. What makes it a perfect choice for beginners is the Marina Slim S20 clip-on filter that is so quiet and can keep the tank clean and clear for a long period. The only thing you have to buy when using this kit for stocking tropical fish is a fish tank heater. A 75-100 watt heater is fairly cheap and works well for a 20 gallon tank.
The tank comes with an LED lighting system included in its hinged canopy. The LED light only provides daylight and no nightlight. For helping you to set up and maintain your new tank, the kit comes with an aquarium care guide and some additives such as Aqua Plus water conditioner and cycle biological supplement. The package also includes fish food for feeding your fish, a soft fish net to help easily and carefully remove fish. These features all help to make it a great fish tank for beginners.
Read the full review of the kit: https://lovefishtank.com/marina-led-aquarium-kit/
Aqueon 20 gallon high aquarium starter kit with LED light
Tank: 20 gallon sealed glass tank
Dimensions: 24.25″ L x 12.5″ W x 16.75″ H
Filtration: Quiet Flow 10 LED Pro filter with filter cartridge.
Lighting: LED lighting system hidden under the hood
Heater: a 100W preset heater with thermometer
Additives: fish food, water conditioner, fish net.
The tank is made of durable glass and features a hood at its top. The hood has a feeding door for you to easily feed your fish. The tank uses a Quiet Flow 10 LED Pro power filter to help keep the water clear and free of harmful particles. The LED light on the filter will indicate when you need to change the filter cartridge. This is a helpful feature you can't see on other filter brands.
The product comes with a 100W preset heater to keep the water temperature at a comfortable 78 degrees Fahrenheit for tropical fish. It also comes with a fish net, fish food, a thermometer, and a setup guide, making everything easier for a beginner. If you're looking for an easy to use fish tank that incorporates many useful features, you should definitely consider this model.
SeaClear 50 gallon acrylic fish tank for freshwater or saltwater setup
Tank: a 50 gallon acrylic aquarium
Backdrop color: clear
Dimensions: 36″ L x 15″ W x 20″ H
Light: reflector and electrical 24″ light fixture
Used for: freshwater or saltwater setup.
If you love Goldfish, Cichlids or other large body fish, it is better to provide them a large house for their healthy development and a 50 gallon fish tank is great size to come with. This tank is made of very clear acrylic, it can hold an impressive 50 gallons of water. The tank is available in three different color choices: clear, black, and cobalt blue. The tank itself is made of very durable materials so you don't have to worry about it easily breaking or scratching.
The tank comes with a plastic led with a built-in 24 inch light fixture and a reflector for use with a fluorescent light. If you want to use new-technology LED light, I recommend to not use the lid, the tank itself is clear and great for an external aquarium LED light setup. This tank is also a great choice for a saltwater reef tank setup with its large size and the ability to use with a reef LED light.
How to choose your first fish tank?
What tank size should I need?
The size of the tank determines the type and number of fish that can safely be kept in it. As a general rule, you can have one inch of fish per one gallon of water. And of course, thicker bodied fish require more space than thinner bodied fish. Generally you will want to buy as large a tank as space and your financial budget allow.
Although the mini-fish tanks are very popular, with such a small amount of water, mistakes in temperature or chemistry could be fatal for your fish. Beginners may want to buy a larger aquarium since smaller aquariums are more difficult to keep stable. 20-29 gallons are large enough to accommodate a selection of fish and large enough to easily keep stable. Following are the best fish tanks sorted by sizes (gallons) for you to easily choose from:
A basic tank that holds 20 to 55 gallons of water should be fine as a home for your fish. The smaller tanks will become dirty more quickly than tanks that hold more water. Smaller tanks will also require regular maintenance and care on your part. 20-gallon is the best tank size recommended by most aquarists; and if you are a beginner, it is a good ideal to get starting with a 20 gallon freshwater tank.
If you want to keep a male Betta, you should provide him at least a 2.5-3 gallon fish tank. This is the smallest tank size recommended for one male Betta to live healthily. Small fish tanks are usually available in various sizes with their unique shapes that surely make you lost in the labyrinth of the world of beautiful aquariums.
Shape and dimensions of the tank
The shape determines the number of fish the aquarium will support. Since most of the oxygen enters the water through the surface, larger surface areas allow more oxygen to enter the water. So, avoid tall thin tanks and instead, pick a long aquarium that will give your fish more room to swim than in a high one.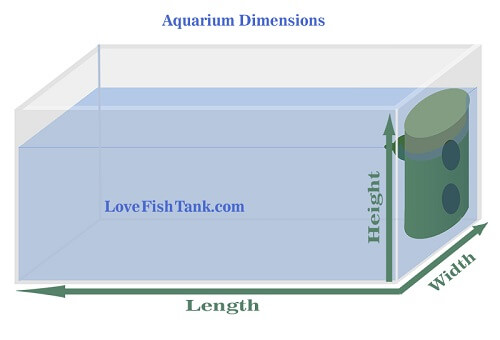 Beside the size and shape, the dimensions of the tank are a very important factor which decides the equiment (stand, hood, filter, LED light fixture…) fit for the tank as well as which types and how many of fish you can stock in it. Following is the dimension table which includes the sizes (length, width, height) in inch of different aquarium shapes and sizes for your reference.
| | | |
| --- | --- | --- |
| Tank sizes | Dimensions (L x W x H) | Weight |
| 2.5 gallons | 12″ x 6″ x 8″ | 27 lbs |
| 5 gallons | 16″ x 8″ x 10″ | 62 lbs |
| 10 gallons | 20″ x 10″ x 12″ | 111 lbs |
| 15 gallons | 24″ x 12″ x 12″ | 170 lbs |
| 15 gallons high | 20″ x 10″ x 18″ | 170 lbs |
| 20 gallons | 24″ x 12″ x 16″ | 225 lbs |
| 20 gallons long | 30″ x 12″ x 12″ | 225 lbs |
| 25 gallons | 24″ x 12″ x 20″ | 282 lbs |
| 29 gallons | 30″ x 12″ x 18″ | 330 lbs |
| 30 gallons | 36″ x 12″ x 16″ | 348 lbs |
| 40 gallons | 36″ x 18″ x 16″ | 458 lbs |
| 40 gallons long | 48″ x 12″ x 16″ | 455 lbs |
| 50 gallons | 36″ x 18″ x 19″ | 600 lbs |
| 55 gallons | 48″ x 13″ x 21″ | 625 lbs |
| 65 gallons | 36″ x 18″ x 24″ | 772 lbs |
| 75 gallons | 48″ x 18″ x 21″ | 850 lbs |
| 90 gallons | 48″ x 18″ x 24″ | 1050 lbs |
| 125 gallons | 72″ x 18″ x 21″ | 1400 lbs |
| 150 gallons | 72″ x 18″ x 28″ | 1800 lbs |
| 180 gallons | 72″ x 24″ x 25″ | 2100 lbs |
Acrylic or glass aquarium?
Aquariums are made of glass and acrylic, and each of these materials has its own advantages and disadvantages.
Glass aquarium Pros and Cons
Easier to clean
Does not need support along the entire bottom; can be supported along the edges
Costs less than acrylic
Heavier than acrylic
Edges can chip.
Acrylic aquarium Pros and Cons
Very light weight
Has smooth corners that don't chip
Provides a clearer and less distorted view of the fish
Scratches easily
Needs to be supported along the entire bottom of the tank
Costs more than glass.
Consider buying an aquarium kit – package
It possible and probably easiest to just buy a fish tank kit – a combination pack that includes the tank, filter, light and may include maintenance supplies and decorations. Buying your aquarium this way can provide some cost savings. But, be sure any package is either put together by a manufacturer or a shop you trust. Some package deals are just a bunch of assorted items throw together that may or may not work together or may be of inferior quality.
Marina LED 20-gallon - best starter aquarium kit
If you haven't known where to get starting yet, I strongly recommend that you should choose a 20 gallon aquarium kit, Marina LED aquarium kit is my recommend. Be sure to remember that you should let your fish tank settled and run well (cycle a new fish tank) before introducing some fish. Don't buy your aquarium and fish at the same time.
Where to buy a quality and cheap fish tank?
Aquariums should be purchased from reputable deals so returns are possible. You may want to buy locally however you will probably find better deals online. Many online merchants offer discounts and free shipping on orders over a certain amount.
If you buy a used aquarium, be sure to carefully inspect it for leaks, cracks and scratches. In fact, if you are able to, fill it with water before you buy. Sometimes leaks are very small. On the other hand you may be able to repair small leaks.
Choosing a location and a stand fit for the tank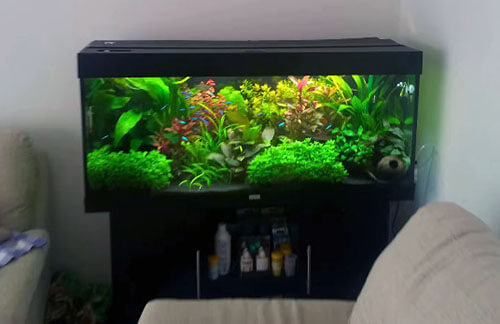 Before purchasing your aquarium consider where you will place it. That will of course determine the size and shape of the aquarium you purchase. It should be located out of direct sunlight or even a sunny room and away from drafts since it is important to maintain the water temperature within certain degrees depending on the fish species occupying it.
It should also be located out of the way so it isn't bumped or becomes a nuisance. You want it placed where you and your house guests can enjoy it. If your aquarium is in a high traffic area, the fish will be subjected to a lot of movement, noise and vibration which may make them timid. The best location will be where there is less traffic for the fish and where the tank can be comfortably viewed.
The aquarium also needs to be well supported and evenly supported so it doesn't buckle and develop leaks. Remember that a filled 20 gallon tank weighs about 225 pounds so you may need to buy a stand. Get a stand made specifically for holding aquariums. And locate it next to a wall, preferably and outside wall that will minimize floor vibration from room traffic and normal activities.
Glass and acrylic aquariums require a different type of support so select your stand accordingly; acrylic aquariums must be supported along the full length of the tank while glass aquariums only need to be supported along the outside edges.
You may also want to get a stand that is made of the same material or at least matches the trim on the aquarium. Consider the stand as another piece of furniture. Metal stands are usually cheaper and more durable than wood stands.