Best aquarium algae magnet cleaners – reviews & guide
Updated: January 28, 2019 - By:
Sieu Nguyen
There are so many tools for you to easily clean the algae and dirty on the inside glass walls of your aquarium. Many hobbyists prefer new algae magnet cleaners while others stick to plastic scrapers. However, if you want everything easier and prefer to stay dry during cleaning your fish tank, an algae magnet cleaner is the solution. In this article, I will review four of the best aquarium algae magnet cleaners for you to choose.
How to use an aquarium algae magnet cleaner?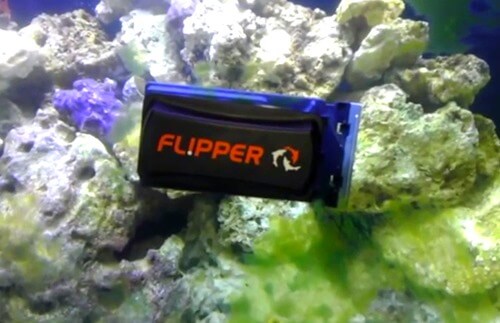 A cleaning magnet consists of two magnets embedded in plastic. One magnet attaching soft cleaning cloth works inside the aquarium while the other is placed outside for controlling the inside one. The way how an algae magnet cleaner works is very easy to understand. The magnet holds the two sides together, when you pull the outside part along the glass, the inside cleaning part will pull along the inside of the tank and the algae is scraped off.
An algae magnet cleaner is usually used in the algae cleaning step of water changes, before the step of vacuuming out a partial water for changing, using a gravel vacuum cleaner. By this way, all the removed algae after scraping, which still remains in your aquarium, will also be discarded along with the changing water by the vacuum cleaner in the later step.
Following are some of the best magnet cleaners on the market today.
Flipper aquarium algae magnet cleaner for glass and acrylic
Flipper algae magnet cleaner, scraper side view
Scrubber side view
This magnet can be used either for acrylic or glass tanks up to 1/4-1/2 inch thickness. A positive aspect of this magnet is that it can be used as a scrubber or a scraper because the inside magnet features two sides, one for scrubbing algae and the other with a blade included for scraping heavy dirty. With only a simple flip of the inside magnet, you can change it from a scraper to a scrubber. The way to do that is very simple, only move the outside magnet to a new position next to the inside magnet to rotate it 180 degrees (flipping.)
What is really great about this product is that the scraper side has only three contact points which means it minimizes the chance of trapping sand allowing you to clean below the sand and reduces the chance of scratching your tank. It comes with two blades to work with the scraper side, a stainless steel blade is used for glass aquariums and a plastic blade is ideal for acrylic ones. You can use one of the two blades which depends on the material of your aquarium. You can also detach all of them if you want to use only the scrubber side to the clean up mild stains inside your aquarium.
Because of its compact design, you can easily clean every bit of the aquarium walls, even hard to reach space like the corners. Furthermore, it is designed with an unique orienting buoyancy for easy retrieval after using. Everything you need is included in this cleaning tool that is the reason why it is more expensive than other magnet cleaners, but it is certainly worth the price.
Aqueon algae cleaning magnet for both glass and acrylic

(4.5/5 by editor)
Check on Amazon.com
This is a high-quality magnet cleaner from Aqueon. Like the previous, this tool can be safely used on both glass or acrylic fish tank. It comes two interchangeable cleaning pads, one for glass tanks and one for acrylic tanks. You can easily buy the replacement pads separately for changing if needed.
The Aqueon algae magnet cleaning doesn't include a scraper side and it is cheaper than the previous Flipper magnet cleaner. If you don't need to use the scraper function, this tool is a cheap and alternative choice for the previous. There are three sizes for choosing: small, medium and large for various tank sizes.
Mag-Float glass aquarium cleaner for small to large glass tank

(4.5/5 by editor)
Check on Amazon.com
They are available in three sizes for aquariums from small to large. The smallest Float-30 can be used for aquarium up to 30 gallons with 3/16″ glass thickness. The medium Float-125 is used for tanks up to 125 gallons with 3/8″ glass thickness. And the largest Float-350 is ideal for extra-large fish tanks up to 350 gallons with 5/8″ glass thickness. They all are applied on glass aquariums only.
The magnets can float in the water, so it will simply float to the surface of the tank where you can easily retrieve it. Simply turn the handle by a 90-degree angle and the two magnets will separate and you can easily remove them for cleaning and storage. If you have a glass fish tank and are finding a cheap and simple magnet cleaner for the tank, the Mag-Float cleaners are a great choice for you.
Magnetic aquarium glass cleaner for glass tanks up to 35 gal

(4.5/5 by editor)
Check on Amazon.com
This magnet can be used for tanks with glass thickness of less than 6 mm. It has the dimensions of 3.7 by 1.8 by 3.1 inches and is suited for tanks up to 35 gallons. The cleaner is best used on glass tanks and not acrylic ones. What I love in this cleaner is that the outside handle features a easy-to-slide felt surface to fully clean your tank with only a little effort. The inside piece is able to float in the water for easy retrieval to clean after uses. It is a great option for cleaning aquarium algae without getting wet.
FAQ
What size of an algae magnet cleaner should I need?
Based on the size of your aquarium and the thickness of its walls, you will need a small or large cleaner; the larger the cleaner is, the faster you clean your tank. However, the smaller tools will be easier to clean small and hard to reach spaces of aquariums such as coners and spaces near the subtrate and decorations.
What should I consider when using an algae magnet cleaner?
Before using the magnet cleaner, make sure that the outer surface of your aquarium as well as the magnets are cleaned, otherwise you risk scratching the glass on your aquarium. The same is for the inner part, when there is sand or other dust on it you could destroy the glass. If sand gets stuck on it while you are cleaning make sure to detach immediately the inner part.
What to do after the cleaning?
When you finish cleaning your tank, simply take the magnet out of the tank and simply scrub it clean. You can also leave the magnet attached to the tank, or if you don't like having a ugly piece of metal hanging on the front side, you can store it anywhere else.
Make sure that you attach the back of the inner magnet with the outside part so that the cleaning pad is on the outside. Pay attention to not store near a heated place as heat destroys the magnetic force. Also, do not store near a computer, flash drive or other electronic devices.
You may also like: How to clean algae and change water for a fish tank?