Best filters for 75 gallon fish tanks (power and canister)
Updated: February 7, 2019 - By:
Sieu Nguyen
There are many types of aquarium filters you can choose for your 75-gallon fish tank; however, a canister or power filter may be a good choice for this large-sized tank. In this review, I will cover some of the best aquarium filters rated for a 75-gallon aquarium that you can choose from based on your needs and budget.
Fluval 406 external canister filter

(5/5 by editor)
Check on Amazon.com
Type: canister filter
Flow rate: 383 US gallons per hour, adjustable
Used for: aquariums up to 100 gallons, both fresh- or salt-water
Filter media: foam pads, Bio-Foam, BioMax, Carbon
Baskets: 4 baskets
Warranty: 3 years.
The Fluval 406 canister filter is in the Fluval 06 series external filters – one of the best canister filters on the market today and it has got quite a number of outstanding features. Its design provides superior filtration that is ideal for aquariums of different sizes up to 100 gallons. In my opinion, this is the best canister filter for a 75-gallon fish tank.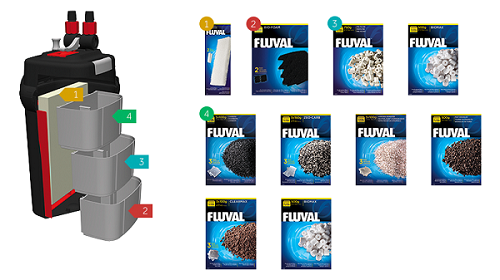 Fluval 306 canister filter. Images and information from Fluval Aquatic
The filter comes with all you need for the setup including filter components and assembling components, even the filter media are also included. It is very easy for you to assemble the filter following the manufacturer's instruction. The startup is instant with a self-priming button and does not need to manually siphon. The sound dampening impeller design gives it quieter operation.
The most feature makes this canister filter loved is four large media trays included for containing a huge amount of filter media for better filtration and less maintenance. You can use various types of filter media to perform a multi-stage and complete filtration in all types – mechanical, biological and chemical.
Maintenance and cleaning won't have to be a problem since its lid features one-motion lock clamps for easy assess inside the filter. That makes routine cleaning both quick and easy. Aqua stop valves permit the stoppage of water flow without disconnecting the hoses, hence eliminate leaks and mess during maintenance.
Read more: https://lovefishtank.com/fluval-106-206-306-406-canister-filter/
Penn Plax Cascade 1000 ideal for 75-gallon aquariums

(5/5 by editor)
Check on Amazon.com
Type: external canister filter
Flow rate: 265 gallons per hour, adjustable
Ideal for: a 75-gallon aquarium
Filter media: bio-sponges, bio-floss, activated carbon.
If you are looking for a cheap and reliable canister filter for a 75-gallon aquarium, be sure to check out the Penn Plax Cascade 1000 canister filter. The filter is designed to be applied on both fresh or salt water. With the flow rate of 265 gallons per hour, it can serve best for aquariums up to 100 gallons.
The filter comes with some advanced filter materials. The floss pad helps to remove any fine particulate matter. The carbon media are to eliminate toxins and impurities in the water. The bio-sponges provide an abundant surface area for bacterial filtration as it is able to boost the growth of helpful bacteria. With the multi-stage filtration system, it is able to produce not only clear but also healthy environment for your aquatic pets.
The design of Penn Plax Cascade 1000 makes it ideal filter for starters who don't have any experience in setting up and maintaining a canister filter. There is a self-priming button on the lid for easy starting, just press the button several times until you get the first water flow from the intake tube going down into the filter. And then, the filter does its works to keep your aquarium clean and clear.
More details: https://lovefishtank.com/penn-plax-cascade-canister-filter/
AquaClear 110 power filter

(5/5 by editor)
Check on Amazon.com
Flow rate: 500 gallons per hour, adjustable
Used for: 60-110 gallon fish tank.
Filter media: AquaClear Foam, Activated Carbon, BioMax.
Warranty: 2 years.
The AquaClear 110 power filter is not only the most efficient but also one of the cheapest ways to keep your aquarium clean from the use of a Hang-On-Back filter. In addition to being utterly energy efficient, this filter features a re-filtration system that offers superior contact time between the water and filter media. In comparison to the other filters in its class, the AquaClear 110 has got a filtration volume that is 7 times larger for better filtration.
Coming with the filter is the best filter media for aquarium today such as AquaClear Foam (mechanical filter), Activated Carbon (chemical filter) and Biomax (biological filter). These filter materials work within the Cycle Guard (a patented re-filtration system inside the filter) which allows for a longer water to media contact time.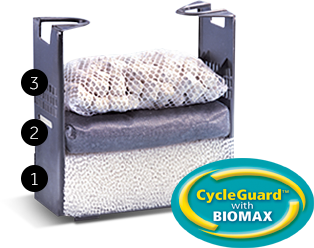 Cycle Guard with Biomax. Image from Fluvalaquatics.com
Whereby the Cycle Guard, the flow rate is able to be reduced up to 50% to fit different fish tanks without decreasing of its filtering efficiency. Moreover, the Cycle Guard with Biomax provides continuous biological filtration that in the end results to a superior water quality which is just what you need for your fish.
Despite having an outstanding design and top-notch performance, installation of this aquarium filter is quite easy. Whether you are using a filter for the first time or want to replace your current, the AquaClear 110 will be up to the task.
Marineland Emperor 400 Pro Series Bio-wheel

(5/5 by editor)
Check on Amazon.com
Type: Hang-On-Back
Flow rate: 400 gallons per hour
Used for: aquariums up to 80 gallons
Filter media: Rite-Size E" filter cartridges.
The Marineland Emperor 400 has a flow rate of 400 GPH which is optimal on any fish tank that is up to 80 gallons which undoubtedly makes this an ideal filter for a 75-gallon aquarium. The most features of this filter are a revolutionary two-pump design and Bio-wheel wet/dry biological filtration system that allow for unmatchable filtration.
Marineland Emperor 400 Pro Series Bio-wheel
Unlike other filters, Marineland Emperor 400 uses two Rite-Size E" filter cartridges and two Bio-wheels to perform the filtration. The Rite-Size E" filter cartridges are pre-assembled and filled with carbon that plays a role as a mechanical and chemical filter while the two Bio-wheels perform the most effective biological filtration. With the possession of all filtration types, your aquarium is surely kept both clean and healthy.
Aqueon QuietFlow 55/75 LED PRO

(4.5/5 by editor)
Check on Amazon.com
Type: Hang-On-Back
Flow rate: 400 gallons per hour
Ideal for: 70-75 gallon fish tanks
Filter media: Aqueon filter cartridge.
The Aqueon QuietFlow 55/75 uses an Aqueon filter cartridge that includes dense flosses and activated carbon. While the dense floss eliminates particles and debris to keep the water crystal clear, the activated carbon accounts for the removable of toxins, odors, and discolorations. It is also equipped with an LED indicator to help you know when you need to change the filter cartridge.
The incorporation of a patented bio-holster accounts for the elimination of toxic ammonia as well as nitrites that could harm your fish. In addition to the bio-holster, there is the diffuser grid that removes additional toxins and at the same time adds oxygen which keeps your fish more active.
Unlike other fish tank filters, this filter is able to reduce splashing which makes the return exceptionally quiet. The internal pump is designed to dampen the noise and in addition to this, it eliminates any leaks and will start automatically after cleaning or any power interruptions.