Best protein skimmer reviews and choosing guide
Sieu Nguyen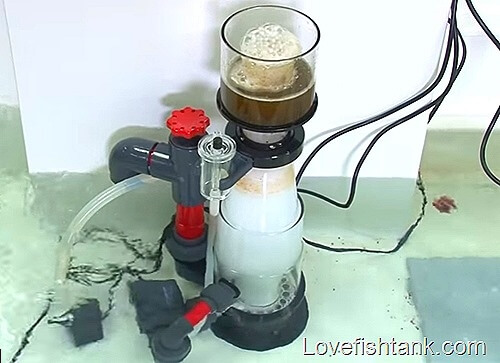 The best protein skimmer is a thing you can't skimp on when it comes to cost with a saltwater fish tank. If you have spent any time at all keeping marine fish or corals, you understand how hard it is to keep water conditions clean enough for them to not only survive but thrive. Those who choose to fight this battle without the use of a protein skimmer usually find themselves on the losing end, which unfortunately often results in dead livestock. There are a lot of ingredients to having a marine aquarium, and the one at the top of the list should be the use of a quality protein skimmer.
What is a protein skimmer, how does it work?
A protein skimmer is one of the most important devices in saltwater aquarium and is the most efficient way of removing organic compounds from the marine aquarium water preventing them from breaking down into nitrogenous waste, which is dangerous for fish and other organisms living in the saltwater aquarium.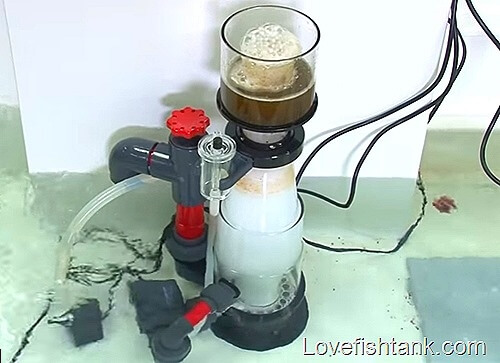 This device is made to utilize a process called foam fractionation in order to physically remove dissolved organic compounds (especially protein) not allowing them to decompose. Foam fractionation is the process of using foams, or air bubbles to transport organic compounds out of aquarium water. Thanks to that it lightens the load on the biological filter (live rock, live sand) and it improves the water redox potential.
The skimmer consists of a pump that has an adjustable valve called a venturi valve. Water from your tank is pumped into the body of the skimmer, and air is injected into that water with the venturi. It is that injection of air into the water that makes the process of foam fractionation possible. The air being injected into the water results in millions of tiny bubbles that fill the main tube of the skimmer. Since those bubbles are filled with air, they float to the top of the tube. As these bubbles rise, tiny particles of waste from the water attach themselves to the bubbles and ride to the top of the tube and overflow into the collection cup.
As you can see, the actual process is a pretty simple concept; use air bubbles in the water to remove waste. But there is a reason why skimmers come in such a wide range of prices. The most effective skimmers are able to produce the tiniest and largest amount of bubbles because the total surface area of the bubbles dictates how much waste can be removed in any given time period. In order to produce both the smallest and most bubbles, a skimmer has to have the highest quality pump and venturi combination. This, combined with the quality and strength of the pump and the overall construction of the skimmer tube is what creates the large price differences.
Protein skimmers come in both hang on the back and in sump models. Most protein skimmers are made to operate in a sump, which is a smaller tank usually kept under the main tank inside the tank stand, or perhaps behind a wall in an equipment closet. The hang on back type of skimmers are typically those that are made for smaller tanks, but it is possible to find this type for a medium-sized system. The size and appearance of a skimmer make it so most hobbyists want to keep it hidden away so people can focus on what is inside the tank rather than the tank's equipment.
Finding the best protein skimmer requires a little bit of research. I have worked in this article to that research and will continue to grow as we add both protein skimmer reviews and information to educate hobbyists, particularly those who are new to the hobby. Take a look at the skimmer reviews following.
Best protein skimmer reviews
Model: Aquatic Life 115 Mini
Type: internal protein skimmer
Ideal for mini-reef tanks up to 30 gallons (115 liters)
Dimensions: 10-5/8″ H x 3.25″ W x 3.5″ D
Pump wattage: 8 watts.
---
Model: Lee's protein skimmer counter current
Type: internal skimmer
Ideal for small saltwater tanks up to 30 gallons
Height: 12.06-inch.
---
Model: SC Aquariums SCA-301 protein Skimmer
Type: in-sump
Ideal for saltwater aquariums up to 65 gallons
Dimensions: 4.25″ L x 7″ W x 17″ H
Recommended water level: 6 – 7″
Pump: 1380 l/h
Pump wattage: 28 watt (110 – 120 V/60 Hz)
Warranty: 1 year limited manufacture warranty.
The SCA-301 is a good buy for anyone who owns a medium saltwater fish tank and is looking for an effective yet affordable skimming machine. The materials used in the construction of this skimmer are not only aesthetic but also durable and high quality. It works well and is relatively easy to install.
It is powerful, effective and costs only half of what most high-end skimmers do. It does the job it was made to do well and comes with a 1-year limited manufacturer warranty that is surely the great investment for medium-sized saltwater aquariums of starters.
---
Model: CoralVue Technology BH-100 Octopus
Type: Hang-On-Back
Ideal for medium saltwater tanks up to 75 gallons
Pump: Hailea OTP 1000 pump.
The CoralVue Technology BH-100 Octopus HOB skimmer can work well for small saltwater aquariums up to 75 gallons. It is a simple and easy-to-install product when you consider the hang-on-the-back design. It is also the best and cheaper one compared to other comparable and popular HOB skimmers rated for 75 gallons such as AquaMaxx HOB-1 and Eshopps HOB PSK-75H.
---
Model: CoralVue Technology BH-1000 Octopus
Type: Hang-On-Back
Ideal for saltwater tanks up to 100 gallons
Pump: external 1000 pump.
Like the BH-100 previous; however, this larger BH-1000 design comes with an external 1000 needle wheel pump which results in the larger 100-gallon maximum capacity. These products get almost universally positive reviews. People typically agree that the design of external pump is easy to install, simple to use and very effective.
---
Editor's rating:
Checkon Amazon.com
The Coralife Super skimmers are available in different models rated for a broad range of aquarium sizes from 65 to 220 gallons. This means there is a Super Skimmer available for everyone except those with very large tanks. These skimmers are configured for either a hang on the back or in sump application. The most feature makes Coralife skimmers popular is the great value you can get for their very cheap price.
Coralife Super Skimmer setup
The skimmer features a patented needle-wheel aspiration system that creates a spiraling vortex of water and micro bubbles inside the reaction chamber. Whereby, increasing the collection of fine proteins and organic compounds that maintain your aquarium with a clean and clear water ideal for fish. The Coralife Super skimmer also comes with a wide neck collection cup with easy twist feature that is very easy for you to maintain it.
---
Model: SCA-302 180 gallon in sump protein skimmer
Type: in-sump
Ideal for heavy load saltwater aquariums up to 180 gallons
Dimensions: 9″ L x 9.5″ W x 18″ H
Pump: Atman 2000 pump needle impeller pump, 2400 l/h
Pump wattage: 41 watts (110 – 120 V/60 Hz)
SCA-302 is one of the best and quietest protein skimmers for large aquariums, it can handle heavy load tanks up to 180 gallons. The skimmer not only do its jobs well to keep your aquarium clean and clear but also come with a very affordable price that makes it the best choice of many hobbyists.
Its construction is durable and nice that fits and looks great in different sump tanks from small to large. Moreover, it is very easy for you to assemble the skimmer as well as remove the collection cup to clean the wastes inside. All in all, the SCA-302 skimmer is good value for the money.
---
Model: Bubble Magus Curve 5
Type: in-sump
Ideal for saltwater aquariums up to 140 gallons (500 lit)
Dimensions: 7.28″ x 7.08″ x 18.5″
Pump: ROCK – SP1000
Pump wattage: 8W (110 V/60 Hz).
This skimmer is compact, yet very effective and can handle the average amount of waste that fish and corals usually produce. It is well made from good quality parts, easy to install and easy to use. Even a first-time protein skimmer owner will have no problem getting them up and working. It is almost noiseless, does the job it is meant to do, is easy to maintain and clean and is definitely good value for the money.
---
Editor's rating:
Check on Amazon.com
Coral Vue Technology model is available in different sizes to suit your aquarium's size and your aquarium's number of inhabitants. This model operates on a concept that is also known as aspiration. The needle/pin wheel is used to shred the incoming air into fine bubbles. It is the size and number of bubbles produced that determines the skimmer ability to maximize the process of foam fractionation, and ultimately determines the effectiveness of the skimmer.
Coral Vue Technology AC20284, 100-gallon
Coral Vue Technology ACV20101, 125-gallon
Coral Vue Technology ACV20107, 300-Gallon
Coral Vue Technology ACV20110, 400-gallon
---
How to choose a protein skimmer for your aquarium
A good skimmer performing at a high level can be the difference between an amazing system and one that has unhealthy and even dying livestock. It is not cheap, but having one that operates properly is vital for the health of your aquarium system. Those of you who have a reef tank already understand how important water quality is in keeping your livestock healthy and thriving in your tank.
There are several points which a skimmer has to meet in order to function properly:
Large amount of air and water must flow through it,
Organic compounds must be collected at the air-water interface,
The bubbles forming this air-water interface must form a foam,
The foam cannot be completely wet so the bubbles pop prematurely,
The drained foam must be discarded.
One of the most important things to remember when considering a protein skimmer is to make sure you choose a unit that can handle the volume of your tank. If you take a shortcut and choose a model rated for a 75 gallon tank when yours is actually a 90 gallon tank, you are fighting a losing battle. If anything, you should choose a protein skimmer that is rated for a tank higher than your tank's capacity. It is well worth the extra money to go a little larger, especially when you consider the cost relative to the cost of the rest of your equipment and livestock.
One common mistake people make is to not count their sump capacity when determining which size protein skimmer to purchase. If you have a 75 gallon tank and a 20 gallon sump, you really have a 95 gallon system, so your skimmer should be rated for at least that number of gallons. As you read through our protein skimmer reviews you will see that most brands offer skimmers in several different sizes with both the pump and the overall unit varying in size and power.
Another common mistake is to know what size skimmer you can fit. If you have a sump in the cabinet under your tank, you are limited in the space available, particularly the height available under the cabinet. The first time I had a reef tank with an in-cabinet sump, I did not pay any attention at all to the height needed when I ordered my protein skimmer. As I put the unit together it suddenly hit me that I might have a real problem fitting the skimmer under my cabinet. I got lucky and it fit, but the lesson was learned and I have since read some stories of others who made the same mistake and were not so lucky. For that reason, I want to stress how important it is that you check the dimensions of the skimmer you want against the amount of space you actually have.
An important thing to remember is that all skimmers need a break in period. This means your skimmer might be set at the perfect setting but not produce much in the way of waste for a few weeks. This is because the surfaces of the skimmer need time to become part of the system. Once your skimmer is broken in and the correct settings are in place, you will be able to develop a routine for cleaning your collection cup. the results left in that cup will be the proof that your skimmer is working as expected.