Best 5 gallon fish tanks and aquarium kits for sale, reviews & guides
Sieu Nguyen
A 5 gallon aquarium kit with filtration and lighting is a great choice for starters who want to keep Betta fish or other small fish in their first tanks. Known that, I have covered some of the best 5 gallon fish tanks for sale in this review which come in various dimensions (long, high) and shapes for you to choose. Besides, I also provide you how to set up and maintain the tank in the final section of this article to help you easily get starting the work.
Marineland ML90609 5 gallon portrait aquarium kit
Tank: 5 gallon curved glass aquarium
Dimensions: 11.8″ L x 11.8″ W x 16.8″ H
Lighting: a hinged LED light with daylight, moonlight and off settings
Filtration: hidden back panel filtration with adjustable flow filter pump
Cartridge: Rite-Size Z Cartridge and Marineland Bio-Foam.
This is a five-gallon curved glass tank with a unique glass canopy which can slide to the back for easy access to the tank for feeding and maintenance. Being fit for setting up an aquascape with a portrait driftwood, this easy-to-assemble kit has a beautiful design and is very easy to maintain.
The lighting and filtration systems of the tank will satisfy both beginners and advanced hobbyists. The LED light includes white LEDs and blue LEDs and can perform daylight and moonlight effects, stimulating the underwater effect of sunlight and relaxing moonlight glow respectively. The light fixture can be hinged to access the internal space of the tank for easy setup and maintenance.
Unlike other aquarium kits using external filters, the Marineland portrait kit comes with a built-in filtration system that is stylishly hidden behind the main tank. The filtration is operated by an adjustable flow water pump, making it easy to keep small fish or Bettas that love gentle water environments. It uses a Bio-Foam and a Rite-Size Z Cartridge to perform an advanced 3-stage filtration to completely purify the water in all mechanical, chemical and biological aspects.
The kit comes with most things you need for the setup, you will only need to buy a small aquarium heater to keep the temperature at a safe range for tropical fish if you want to keep this kind of fish.
Fluval Spec V aquarium kit
Tank: 5 gallon etched-glass tank with aluminum trim.
Dimensions: 17.2″ L x 6.3″ W x 10.6″ H.
Lighting: overhanging lighting system, consisting of 37 powerful LED lamps.
Filter: a built-in filtration system with a powerful circulation pump.
Filter media: foam block, activated carbon and BioMax bio rings.
Being designed with special dimension, the tank requires less space to house and perfectly fit in many desktops, countertops and other space into which normal tanks can't be placed. By this design, your aquarium will be so similar to a lively nature picture in which fish and aquatic plants can grow normally.
Fluval Spec V aquarium kit
The filtration system of this fish tank is very similar to the previous aquarium kit. It's positioned in the left side in the previous picture. The filtration is powered by a powerful pump that keeps the water constantly circulated and filtered. Moreover, it comes with the most advanced filter media from Fluval for the effective filtration. Foam block for trapping dirty particles; activated carbon for removing chemical toxins, odors, impurities and discolorations; and BioMax bio rings for optimal biological filtration.
You can use the tank as a Betta fish tank or for stocking Gourami, small Tetras, small barbs, shrimps, snails and other fish species which can live healthily in small tanks. The powerful lighting system and filtration of the kit will provide the optimum environment for your fish and shrimps to thrive.
Marina LED 5 gallon aquarium kit, best and cheap
Tank: 5 gallon glass aquarium, very clear and long-lasting
Dimensions: 16″ L x 8.5″ W x 10.5″ H
Filtration: Marina Slim S10 clip-on filter and quick-change filter cartridges
Lighting: LED light incorporated into the canopy with natural daylight effect
Additives: fish food, Aqua Plus water conditioner, cycle biological supplement, a fish net, an aquarium care guide.
Marina LED aquarium kits are always the best choices of mine because the quality of these products. The very clear glass tank, powerful filter and other wonderful features from this kit make it ideal for beginners who want to own a small fish tank to get starting with the fish keeping hobby.
The powerful and quiet Hang-On-Back filter is the best thing praised by almost customers. Its filter cartridges are so effective in biological filtration that removes any nitrogenous toxins in the water to provide your fish a clean and clear house to live healthily. The LED light included into the canopy is very bright; it offers natural daylight to illuminate your fish, plants and decorations.
Some additives necessary for setting up and maintaining a freshwater fish tank are also included in the kit. Aqua Plus water conditioner helps to remove harmful substances like chlorine and heavy metals in the tap water. Cycle Biological Supplement acts as a biological supplement which promotes a healthier environment for the fish. Besides, the kit also comes with fish food, a fish net and a guide for caring your fish.
Read the full review: https://lovefishtank.com/marina-led-aquarium-kit/
Penn Plax curved corner glass aquarium kit, 5-gal
Tank: a curved corner glass fish tank, 5-gal
Dimensions: 13.75″ L x 8.75″ W x 11″ H
Light: LED lighting
Filtration: CIF1 Cascade internal filter.
I love this tank because its design looks very attractive, the curved corner glass makes it look durable and seamless from the front. The lid is made of clear plastic for a clear view from the top; it flexibly hinges on the top back edge for easy access to the tank for setup and maintenance.
It comes with a LED light attached to the glass back panel to brighten up entire the tank; an internal filter are also included to keep the water clean and ideal for fish. You only need to buy several other equipment and additives to fulfill your setup, continue to read this article to know what you will need and how to do after buying this tank.
Fluval Edge 6 gallon fish tank
Tank: 6 gallon sealed glass aquarium
Dimensions: 17″ W x 14.3″ D x 13.7″ H
Available colors: black, silver, white
Light: 21 LED bulbs—18 white 7600K and 3 deep blue bulbs with 3 switches
Filter: Fluval power filter with CycleguardTM
Additives: Nutrafin Cycle and Nutrafin Aquaplus water treatments.
This visually interesting and easily managed tank is perfect for office tables or small apartments. Because of the unique design of the Fluval Edge 6 gallon fish tank, it gives the feel of having no air at the top that offers a great view from any angle that you can't see in traditional rectangle aquariums.
The filter is built and carefully hidden behind of the tank, it features a CycleguardTM filtration system and is very efficient in keeping the water clean and clear for a healthy and beautiful aquarium. The LED lighting built into the hood, which includes 21 LED bulbs, gives a shimmering effect in the tank. The creative design makes it look bigger than its actually capacity – 6 gallons (23 liters). The tank will be a center piece of your home decor that surely attracts any people who visit your home the first time.
Read the full review of this beautiful aquarium: https://lovefishtank.com/fluval-edge-aquariums-6-12-gallon/
Tetra Crescent 5  gallon acrylic aquarium kit
Tank: a seamless contemporary 5 gallon acrylic aquarium
Dimensions: 16.6″ L x 11.2″ W x 13.2″ H
Lighting: energy efficient hidden LEDs offers bright white lighting
Filtration: Tetra Whisper® internal filter and cartridge.
If you don't like glass tanks, this five-gallon acrylic aquarium kit is the best choice for you. Being manufactured by the leader in underwater wonder – Tetra® USA, the Tetra Crescent acrylic aquarium kit will bring the nature into your office, living room, bedroom or any room with its very seamless and stylish look.
It features a hinge style plastic lid which offers easy access to the tank for setup and maintenance. It comes with a bright white LED light and an internal filtration system to keep the tank run. It is ideal for setting up a planted tank with the kit; its seamless view accompanied with the bright white LED lighting will illuminate your entire aquarium theme as well as brighten up any space where it is placed.
Tank: an acrylic fish tank, 5-gal
Dimensions: 14.2″ L x 10″ W x 11.5″ H
Light: 7-color LED lighting included in the hood
Filtration: Superclean 10 internal power filter and cartridge.
Also an acrylic fish tank; however, it has a different design with flat back and rounded front. The special construction makes it resistant to impact and more durable than glass tanks. The clear acrylic and rounded front offer a crystal clear view without any obstruction.
API Panaview aquarium kit features
The tank comes with a black canopy with LED light included which can offer seven colors (amber, aqua, blue, green, purple, red, and white) to illuminate your aquarium's inhabitants. The Superclean 10 internal power filter features a flow rate of 45 GPH (gallons per hour) which works with the Bio-Chem Zorb 10 filter cartridge to clean and purify the tank. The filter is very easy to maintain, just cleans it once a week and sometimes changes the cartridge to keep the filtration efficiency.
Acrylic GloFish aquarium kit, 5 gallons
Tank: a clear acrylic aquarium with curved front and a plastic canopy, 5 gallons
Dimensions: 15″ W x 9″ D x 14.5″ H
Lighting: blue detachable LED overhead light
Filtration: Whisper(R) internal filtration and medium Whisper® Bio-Bag® cartridge.
If you are planning to stock your new aquarium with GloFish, this clear plastic aquarium kit is the best choice for you. The aquarium and its supplies are especially designed to bring out the most beauty of Glofish. The filtration system keeps your fish healthy and the special LED light is intended to enhance the fluorescent lighting from Glofish.
The best fish you could keep in this tank are Glofish such as Zebrafish, Tetra (Gymnocorymbus ternetzi), Tiger barb (Puntius tetrazona) Glofish with a variety of colors from green, orange, pink, red, blue, and purple. Fluorescent colors from this kit will provide the perfect backdrop for your GloFish(R) to brighten up both the aquarium and your interior decor of any room from living room, bedroom.
Some stocking ideas for a 5 gallon fish tank
It's recommended that let's start with a 20 gallon aquarium kit stocking freshwater fish if you are a beginner. If your stocking options are minimal or you are only interested in small fish tanks, you can minimize the fish living healthily in the tank. And a 5 gallon one should only be used to create enough environment for small fish like cory catfish or one Betta male. A shrimp tank setup is also a good choice because freshwater shrimps can live well with this tank size.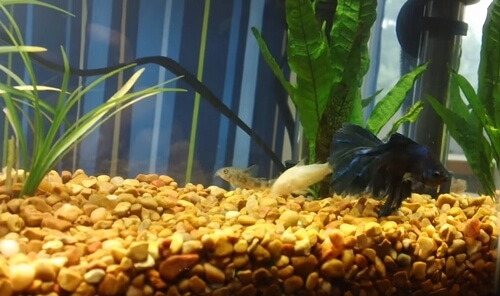 You will have to ensure that the water is at the proper pH level, your fish are the proper kinds, they can live together, and numerous other topics. Keep in mind that small tanks are easy to change their environments than the larger ones, so they will cost time and money for the maintaining.
It is even harder for a small saltwater tank that requires a lot of set-up and a great deal of maintenance. Many experts recommend that for a saltwater environment, the tank should be no smaller than a 30 gallon fish tank and it's perfect for starting with a 55 gallon fish tank.
How to set up and maintain a 5 gallon fish tank
If you buy a kit in this review, some equipment is already included and you only need to buy deficient ones. Following are essential things you will need for the process:
A glass or acrylic fish tank with canopy.
Having a stand is optional because this small sized tank can be placed well on a table.
A proper LED light for the aquarium theme you intend for. If your tank is a fish-only one, a cheap LED light fixture for fish tank is enough to brighten entire the tank. If you are planning for a planted tank, ensure that the light you choose is a LED light for planted tank.
Substrate (gravel, sand or aqua soil for planted tank). You will need approx 4.5 lbs of substrate to fill 1-inch height of a standard 5 gallon tank with the dimensions of 16-inch length by 8-inch width by 10-inch height.
A small filter for 5 gallon aquarium with replacement filter media.
Aquarium decorations and/or aquatic plants.
A 25-watt aquarium heater and thermometer if you want to keep tropical fish.
Now you have got essential things needed for the setup. In order to prepare your tank, you'll need to clean it with water, without using any soap or chemical. You'll also need to clean the filter, decor and gravel in the same way to ensure that all contaminants that are potentially dangerous to your fish are gone.
After that, going to my full guide to set up a freshwater fish tank to know how to get starting the work. After all setup and cycle steps, buying some fish and/or shrimps and accommodating them to the tank in the right way. You should buy your fish finally after everything is ready and only buy several fish for the first time. Finally, you should know how to maintain or do water changes for the tank in the right way.