Best 30+ inch stands for 29-30 gallon aquariums
Updated: July 5, 2019 - By:
Sieu Nguyen
Choosing the right 29-30 gallon aquarium stand can be just as important as picking the your fish tank. First, it needs to be strong and sturdy but also look good at the same time. So don't skimp on the stand. Remember, it will be on display just as much as the aquarium itself. Don't use some old antique table you found in the attic.  Any unnoticed water leaks can warp the wood and badly weaken the stand. It's always best to use manufactured aquarium stands sturdy enough to handle your tank.
How to choose a stand for 29-30 gallon aquarium?
Firstly, for choosing the right fish tank stand for your 29-30 gallon aquarium, you must know exactly the dimensions of your tank. Following are the most common dimensions of 29 and 30 gallon tanks that may recall your aquarium dimensions.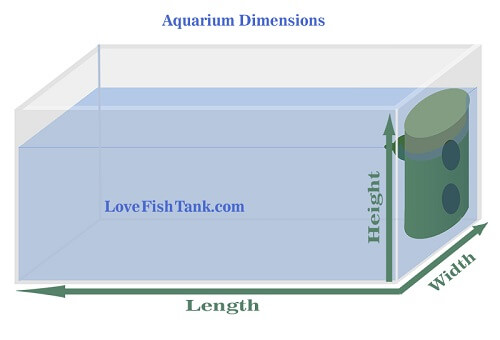 The 29 gallon fish tanks usually come in the dimensions of 30″ L x 12″ W x 18″ H,
While 30 gallon aquariums usually come in the dimensions of 36″ L x 12″ W x 16″ H.
Make certain your tank fits the stand. If the tank edges hang over the stand, it is too small. This overhang can eventually cause the aquarium itself to warp and potentially break. So it is good ideal if choosing a stand that a bit larger than the sizes of your aquarium.
There're quite a few aquarium stands out there in the market to meet and match your living space, size and style. Manufactured aquarium stands are generally made from iron, steel or wood. They all work well so it's really a matter of choice. Here are some of the most recommended ones.
Imagitarium Brooklyn 29 gallon metal tank stand

(5/5 by editor)
Check on Amazon.com
Stand: durable solid steel with black finish
Adjustable feet to alter its level
Dimensions: 30″ L x 12.5″ W x 29.5″ H
Best for: standard 29 gallon tank, both saltwater or freshwater
An assembly upon delivery is required.
Petco Brooklyn manufactures a variety of quality stands for different tank sizes, this 29 gallon aquarium stand is also one of noteworthy products for their customers. Being constructed from solid steel makes the stand sturdy and durable that can withstand the weight of a 29 gallon tank with water for years.
Most buyers would prefer the stand because the durable materials used would last longer compared to a wooden stand. The stand comes with black finish and modern design that will look great in home, office or any where you want to place it. The product requires assembly upon delivery; however, don't worry because it is very easy to assemble without any specialized tools.
Aquatic Fundamentals 30 gallon aquarium stand

(5/5 by editor)
Check on Amazon.com
Stand: a stand with black powder finish for extra moisture resistance
Dimensions: 37.37″ L x 13.12″ W x 28.25″ H
Best for: a 30 gallon fish tank, both glass or acrylic.
You hesitate of using an particle board stand being easily destroyed by moisture, however, you also don't like steel ones with their very noticeable feet, this stand maybe a good choice for your home decorations. Being made by dense fiberboard core with black powder-coat finish, the stand is favorite by its good moisture resist and being extremely durable. Besides, the stand also provides a clean and great viewing for anywhere position it.
The solid top is the most powerful thing of the product. In-depth analysis on the top, unlike other "lip-only" stands that can only withstand aquariums at the corners, the solid top of this model support every square inch of your aquarium. Besides, the metal-to-metal locking cam assembly but not using wood screws and glue like other products on the market makes the stand the sturdier and longer lasting quality product.
Double 30 gallon steel fish tank stand

(4.5/5 by editor)
Check on Amazon.com
Stand: a 30 gallon metal stand
Dimensions: 38-1/2″ L x 13″ W x 29″ H
Interior opening dimensions: 34 3/4″ W x 11 1/4″ W.
Ideal for: two fish tanks (a 30 gallon tank and a smaller one).
This 30 gallon fish tank stand is favorite by its qualities such as beautiful, convenient, long-lasting, powder coated to resist rust and moisture, easy to set up… It comes in black, black is a neutral and versatile color to blend in various styles of home or office decor.
Thanks to the design of the stand, not only you can place a 30 gallon fish tank on the top shelf but also the bottom shelf is the ideal place for an equivalent or smaller fish tank, a sump tank, or equipment (canister filter, CO2 supply system…) that needs large space to place.
The item is delivered for you to assemble it by yourself. It is very easy to assemble the product with some common household tools that makes the installation of the stand quick and easy. When you don't need to use the stand, you can disassemble and store it in a minimum amount of space.
Imagitarium Preferred Winston 29 gallon tank stand

(4.5/5 by editor)
Check on Amazon.com
Stand: 29 gallon aquarium stand with cabinet
Color: espresso
Dimensions: 30″ L x 12.5″ W x 29.5″ H
Ideal for: 29 gallon aquariums or terrariums.
The stand comes in espresso color and perfectly fits a 29 gallon fish tank. It is coated with moisture-resistant hardwood stain finish making it more durable than other particle board wood stands. By using this stand, you don't need to worry about that they are easily destroyed by water and moister.
The cabinet included is very convenient and stylish. Two cabinet doors conceal a large shelf to keep and hide your aquarium supplies such as fish foods, fish nets, conditioners… If you love espresso color, the stand is a great choice for you.
Altra Furniture Harbor 29 gallon aquarium stand

(4/5 by editor)
Check on Amazon.com
Stand: a particle board stand with sleek black finish
Cabinet: a cabinet has two large doors with brushed nickel handles
Best for: a 29 gallon aquarium, both saltwater or freshwater
An assembly upon delivery is required.
The stand includes a cabinet with 2 shelves behind the doors where you can store your aquarium goods such as fish foods, nets, water treatments, aquarium cleaning tools, or etc. So, everything people can see is a stylish stand with a sleek black finish. The stand is made by particle board and its top is a flat space where it can hold a 29 gallon fish tank both class or acrylic.