Fluval 106, 206, 306, 406 Canister Filters – Review & Guide
Updated: June 26, 2019 - By:
Sieu Nguyen
Fluval 106, 206, 306, 406 canister filters are in the Fluval 06 series – the most advanced and newest models from Hagen Fluval. Owning many powerful and unique features makes them one of the best canister filters in the market today. The most advanced features can be mentioned as multi-stage filtration, durable construction, quiet operation, quiet operation, easy setup, less and easy maintenance.
Four models for small to large aquariums
Model

Fluval 106

Fluval 206

Fluval 306

Fluval 406

Aquarium Capacity
25 US Gal
(100 L)
45 US Gal
(200 L)
70 US Gal
(300 L)
100 US Gal
(400 L)
Pump Output
145 US Gal/h
(550 L/h)
206 US Gal/h
(780 L/h)
303 US Gal/h
(1150 L/h)
383 US Gal/h
(1450 L/h)
Filter Circulation
95 US Gal/h
(360 L/h)
121 US Gal/h
(450 L/h)
206 US Gal/h
(780 L/h)
245 US Gal/h
(930 L/h)
Head Height
(max.)
4.8 ft
(1.45 m)
4.8 ft
(1.45 m)
5.8 ft
(1.75 m)
7.5 ft
(2.25 m)
Media Capacity
0.8 US Gal
(3.2 L)
1.2 US Gal
(4.6 L)
1.7 US Gal
(6.6 L)
2.2 US Gal
(8.5 L)
Wattage
(120V/60Hz)
10 W
10 W
16 W
23 W
Wattage
(230-240V/50Hz)
10 W
10 W
15 W
20 W
Dimensions
(L x W x H)
8 x 6 x 15″
(20 x 15 x 38 cm)
8 x 7 x 18″
(20 x 18 x 46 cm)
10 x 7 x 18″
(25 x 18 x 46 cm)
10 x 8 x 20″
(25 x 20 x 50.8 cm)
Fluval 06 series canister filters
Large and multi-stage filtration system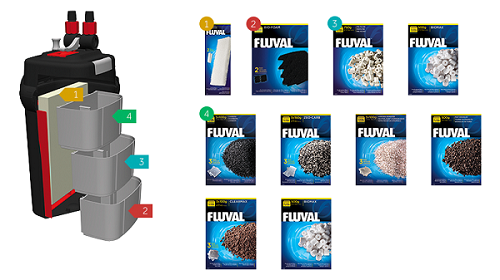 Multi filtration stages
Unlike other canister filter brands, the mechanical stage of Fluval 06 canister filters is a large vertical cartridge with foam pads (1), which provide a very large surface for trapping more waste particles. That means the mechanical filtration is best performed and these filters need less maintenance than other ones that put small foams in their baskets. This design also allows you to quickly get the foam cartridge out of the filter for cleaning without touching other baskets.
The large baskets (2) (3) (4) are able to accommodate various types of filter media for the best performance of all filtration types (mechanical, biological and chemical) to keep the water clean, clear and safe for fish. Each filtration stage is separated from the others for flexibility in media change and maintenance.
They come complete with media in all baskets for instant access and setup, so you don't have to buy these separately.
| | | | | |
| --- | --- | --- | --- | --- |
| Model | Fluval 106 | Fluval 206 | Fluval 306 | Fluval 406 |
| Baskets | 2 | 3 | 3 | 4 |
| Polishing pad | 1 | 1 | 2 | 2 |
| Foam pad | 4 | 4 | 4 | 4 |
| Bio-Foam | _ | 1 | 2 | 2 |
| 120 g BioMax | 1 | 1 | 2 | 2 |
| 70 g Carbon | 1 | 1 | 2 | 4 |
The total filtration capacities of the Fluval 06 series canister filters are larger than other comparable filters in the market. The square shape will take 35 to 50% more water than round canisters of the same size that results in better and cleaner filtration. This also reduces maintenance frequency and save you a lot of time for enjoying your aquarium.
Quiet pump and powerful water flow
Fluval 06 series water flow
The motor impeller (electric pump), which is placed inside the lid, operates the entire canister filter. The pump withdraws the water from the canister and returns it to the aquarium, where by the water is constantly circulated and filtered. The impeller is designed with a sound dampening system for quieter operation. It is improved for energy saving and long lasting.
The convoluted water flow inside the filter chamber is designed for longer contact time between the water and filter media for better filtration. By this way, the filtration efficiency is significantly enhanced due to the ability of these filters to use the entire canister space.
The flow rates of Fluval 106, 206, 306, 406 canister filters are respectively 95, 121, 206, 245 gallons per hour that clearly higher than other comparable canister filters. Because of the higher flow rates, Fluval 06 canister filters are very effective in keeping your aquarium water constantly circulated and filtered. The flow rate is adjustable to different levels by adjusting the white knob of the Aqua-stop valve on the lid.
Designed for easy setup and maintenance
Fluval 06 canister filters are designed with the most advantage features for quick and easy setup and maintenance.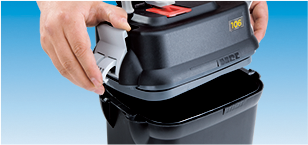 Lift-lock clamps securely and quickly lock the lid in place.
With the lift-lock clamps, it is very easy for you to assemble as well as disassemble Fluval 06 series canister filters for quick setup and maintenance. They are made of glass fibers ensuring strength and durability.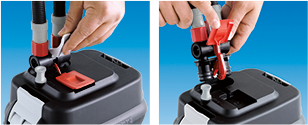 Aqua-stop valve for mess-free maintenance
The Aqua-stop valve allows you to shut off the water flow without disconnecting hoses, thus eliminating leaks and mess during disassembly. Besides, by controlling the white knob on the Aqua-stop valve, you can adjust the flow rate to different levels to meet the need of your aquarium inhabitants.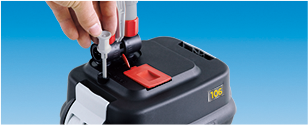 Automatic priming button
The Fluval 06 series features an improved priming system that makes starting the filters a breeze. Only press the prime button on the lid several times until getting the first water flow from your aquarium into the filter and the gravity will do the rest to fill it. The setup process only takes less than 20 minutes to have the first water flow being pumped into your aquarium.
Fluval 06 series canister filters
How to set up Fluval 06 canister filters?

Fluval 06 series canister filter setup guide
Fluval 06 series filters come with most things for setup including: baskets, filter media, AquaStop valve assembly, ribbed hosing, 2 rim connectors, intake tube, intake strainer, output nozzle, 2 rubber connectors, instruction manual, quick start manual. The number of baskets and filter media included are different among different models.
Everything coming in the box is ready for you to assemble the filter following the instruction from the manufacturer. Even the filter media that go into the baskets are supplied and ready for the setup. All you have to do is to put them together and all the procedure takes only about 20 minutes until the first water flow pumped into the aquarium. Previous is a great video from the manufacturer (Fluval Aquatic) for assembling these filters.
How to clean Fluval 06 canister filters?
According to the number and types of fish you have in your aquarium, the filter will need to be cleaned every one to three months. It is the same to maintain Fluval 106, 206, 306, 406 canister filters because they have the same structure. And this process is very simple because of the advanced designs of Fluval 06 series.
Just plug your filter out and shut off the Aqua-stop valve to disconnect the water flow from the tank. Then, remove the lid after opening the lift-lock clamps and you can access the internal filter media chambers for cleaning. After cleaning the filter media, reassemble the canister filter and plug it in. The process is very easy to do for anyone, even starters.
I usually clean my canister filter after changing aquarium water. I keep the removed water for cleaning filter media. Because tap water containing chlorine compounds harmful to live organisms, using the removed water to clean your filter media helps to reserve the helpful bacteria living in these materials.
Advantages and downsides
Excellent and multi-stage filtration
Many and large media baskets, flexible in the use of filter materials
High and adjustable flow rate
Very quiet operation
Easy to start, self priming without manual siphon
Easy, quick and less maintenance
Durable construction, last a long time
Less energy consumption, low maintenance cost
Excellent manual guide, step-by-step instruction
3 year warranty.
Fluval 06 series canister filters
Top Editor's Choice on Fluval Canister Filter