Best 24 inch LED lights for 20 gallon aquariums
Updated: February 11, 2019 - By:
Sieu Nguyen
For lighting a 20-gallon fish tank, generally measuring 24 inches long by 12 inches wide by 12 inches high, a 24 inch LED aquarium light is the right choice. First of all, you should choose the right light type for your aquarium stocking options. If you have a fish only tank, you should choose a light that can provide lighting colors same to those in the natural habitats of the fish. If you have plants or corals in your aquarium, ensure that the color temperature (or Kelvin rating) of the light is appropriate and the lighting output is high enough to grow these photosynthetic organisms.
Following are some of the best 24 inch LED lights for different types of fish tanks that you can use for your 20-gallon fish tank.
Beamswork EA Timer FSPEC LED aquarium light 24-inch
LEDs: 

27 x 0.50W (

16 x 10000K, 6 x Actinic 460nm, 3 x Red 620nm, 2 x Green 520nm;) 1200 lumens

Lighting modes: day and night
Ideal for: freshwater fish, low light planted tank, cichlid tank
Fixture size: 24 inches, extendable
Beamswork EA Timer LED light is a perfect choice for low tech planted aquariums that only require a low lighting condition to thrive. Its design is sleek and very appealing giving your aquarium an expensive touch. With its quality and very affordable price, I strongly recommend the light for any starter hobbyists.
The fixture is designed to be used with an optional timer from Beamswork. Please note that the timer isn't included in the package and you have to buy one separately. I strongly recommend you to use a timer with the light. It helps you to automatically turn on/off the light day by day.
Nicrew LED aquarium light for 20 gallon fish tank
LEDs: 72 LEDs (60 white + 12 blue), 7500K, 640 lumens
Lighting modes: white and blue for day and night
Ideal for: freshwater or saltwater fish only tanks, tanks with several plants or corals
Extendable brackets: from 20 to 27 inches
Warranty: one-year limited warranty
In the box: an LED aquarium light, two extendable brackets, an adapter, a user's manual.
This LED light is the perfect choice for saltwater or freshwater aquarium with only fish, without or with several plants or corals that need specific light spectrums to grow. It is energy saving compared to the previously used large fluorescent bulbs.
The fixture comprises two types of LED bulbs, white LEDs and Blue LEDs. There is a three-position switch for you to turn on/off the blue and while LEDs. The switch offers three options: daylight, nightlight, and off. When the daylight is chosen, both white LEDs and blue LEDs are turned on for producing bright daylight. When the nightlight is chosen, only the blue LEDs are on to produce blue moonlight for nighttime enjoyment.
The light is designed to be perfectly applied on an aquarium with a clear glass or acrylic cover. It comes with extendable mounting legs which are adjustable to fit well on aquariums with the lengths from 20 to 27 inches. That means it perfectly fit a 20 gallon fish tank with 24 inch length. It is recommended that the light should be lit for 8 to 10 hours in a day.
Current USA Satellite Freshwater LED Plus Light
LEDs: 48 White 6500K and 24 RGB LEDs
Lighting modes: 6 preset colors for various freshwater tank types (community, cichlid, Betta, planted, goldfish, shrimp…) 4 memory slots for saving your own lighting colors, 12 dynamic modes
Ideal for: most freshwater fish tanks
Extendable brackets: 24-36″.
The Current USA Satellite brings a great change to the way aquariums are lit. It provides you various lighting effects for different types of freshwater fish tanks including community, planted, cichlid, goldfish, shrimp… Based on the types of livestock you have in your aquarium, the manufacturer recommends some specific colors for each type. It also provides you the ability to fully customize and get the most desired lighting colors with its 32-key remote control.
Remote control
The wireless remote allows you to fully control and customize the light from your comfortable sofa. In addition to various lighting effects that are pre-programmed and ready to use, you can create your own color blends with the remote control. There are four memory slots (M1, M2, M3, M4) on the remote for saving your custom colors.
The product comes with two docking mounts that are adjustable to fit perfectly on a wide range of aquarium sizes. It also comes with a 12V DC UL transformer for use with various power sources in different regions.
Finnex Planted+ 24/7 v2 24-inch for 20 gallon planted tank
LEDs: 25W, 32 White + 16 Red +

 24 RGB Cluster LEDs

Modes: 24/7 free-hand lighting cycle, f

our customization colors, weather modes

Size: 24 inch fixture with clear legs that can slide inwards
Ideal for: 20 gallon planted tank.
The Finnex Planted Plus 24/7 is one of the best LED lights for planted tanks with its 7000K bright white LEDs that can emit high output lighting for growing plants, even high light level plants. What makes this LED light stand out from other products is its 24/7 feature for free-hand control. This is a wonderful feature that stimulates lighting effects of a day under the sun inside your aquarium.
24/7 feature
A lighting cycle in an aquarium using the Finnex Planted Plus 24/7 v2 fixture starts with a cool lit dawn, which then transitions into a warm sunrise morning, to an intense color blazing high noon, to a red sun drowned sunset, and finishes with a starry night blue moonlight.
If you don't want to the 24/7 feature, there are also other preset modes for you to choose. These lighting and weather modes are pre-programmed and ready to use by only a single click. They include blazing thunderstorm, cloudy day, sunny day, and moonlight effects. Moreover, you can also build your own lighting colors and store them into 4 memory slots (M1-4).
There are so many things to talk about this great product, so I have a full article of it here.
Finnex Stingray LED light 24-inch for 20 gallon starter tanks
LEDs: 27

 Daylight LEDs 7000K + 4 RED LEDs 660nm + 5 Deep Blue 460nm LEDs

Wattage: 13 watts
Lighting modes: daylight with tri-color blend
Length: 24 inches
Ideal for: 20 gallon aquariums with low light plants.
This LED aquarium lights fixture is best for the aquariums with low light plants like ferns, mosses, or anubias. The cheap price and sleek design make the Finnex Stingray a perfect choice for starters' fish tanks with some low light plants.
The fixture is 24 inches long that makes it perfectly fit for the common size of a 20 gallon aquarium. It comes with clear plastic legs and a pair of mounting clips, offering you many choices for setting the fixture. You can use the plastic legs to attach the fixture onto the aquarium hood or hang it inside the hood with the mounting clips.
Current USA Orbit Marine LED light for 20 gallon reef tank
LEDs: 36 Dual Daylight (8,000K/12,000K) and 36 Dual Actinic (445nm/460nm)
Wattage: 23 watts
Lighting modes: automatic light cycle settings that are flexibly customizable, preset lighting effects and weather modes ready to use.
Extendable brackets: 24-36″
Ideal for: marine fish, inverts, live rock, soft corals, LPS corals.
If you have a saltwater reef tank with many corals to care for, the Current USA Orbit Marine LED light is a great choice for you. The best thing that makes the Orbit Marine stand out from other reef tank LED lights is its Dual Daylight (8,000K/12,000K) and Dual Actinic (445nm/460nm) multi-chip LEDs. The combination of these color spectrums produces stunning color effects while supporting the healthy growth of marine fish, inverts, live rock and corals. Moreover, the fixture uses 120 degree lenses for the most excellent color blending and spread.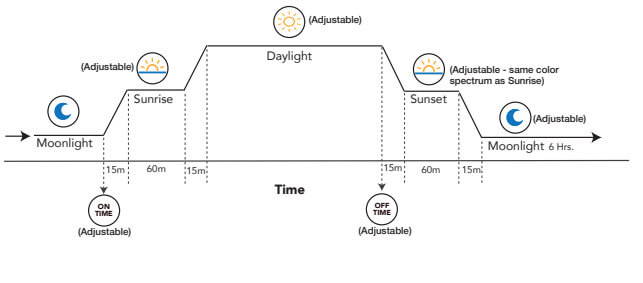 Automatic lighting cycle
The Orbit Marine LED light comes with a Ramp Timer Pro controller which automatically controls the LEDs follow a preset cycle for automatic operation and free-hand control. Moreover, the smart timer also offers short transient periods (15 – 30 minutes) between day and night modes for the fish and corals to acclimate with the new light. Thanks to that, they aren't shocked by the sudden changes of lighting.
Beside to the 24 hour on/off time feature, the Orbit Marine LED light also offers you four preset lighting effects which include two cloud cover modes, fading moonlight and storm with lightning. These modes mimic common weather patterns found in nature and add amazing lighting effects to your aquarium.
Read the full review of the Current USA Orbit Marine: https://lovefishtank.com/current-usa-orbit-marine-led-light/
Deckey extendable LED light for freshwater/saltwater tank
LEDs: 72 LEDs (60 white + 12 blue)
Lighting modes: blue, blue plus white
Ideal for: freshwater or saltwater fish tank. Beneficial to grow aquarium plants
Extendable brackets:

19.7

-27.6″ (50cm-70cm).
This LED aquarium light is a great choice when it comes to creating special lighting effects in your fish tank. In addition to keeping the tank well lit, it also creates favorable conditions for supporting the growth of aquatic plants. It is fitted with blue and white LEDs which offer daylight and nightlight. The white LEDs provide the very bright daylight while the blue LEDs help to create a lighting condition similar to the moonlight at night.
It is designed in such a way that it is very easy to use, you only have to attach its extendable bracket onto the top of your aquarium walls and plug it into a power source. The extendable legs ensure that it can be perfectly fitted onto any sized aquariums with the lengths from 19.7 to 27.6 inches. When installing this fixture, you should remember that it is not water proof and it should be kept away from water. It is advisable to install the light over an aquarium cover (glass or clear plastic.)