Best 100 watt heaters for 20/29/30 gallon aquariums
Updated: February 7, 2019 - By:
Sieu Nguyen
A 100-watt aquarium heater is a right choice to maintain a healthy water temperature range in a 20/29/30 gallon fish tank. This article reviews some of the best 100W aquarium heaters from different brands that you can choose from based on your needs and budget.
Aqueon Pro Heater 100W for 20-30 gallon fish tanks
Type: fully submersible
Wattage: 100W
Temperature range: 68 to 88°F, accurate to ±1°F
Special features: indicator light, auto shut-off
Used for: 20-30 gallon fish tanks, both saltwater or freshwater.
This heater from Aqueon is one of the most accurate, reliable, durable and easy to use aquarium heaters on the market. It has an electronic thermostat which allows for accurate temperature settings. The heater features a large control knob which easily allows you to set your desired temperatures. Furthermore, it has a monitor light, which turns red when it is still heating and green when the set temperature is reached.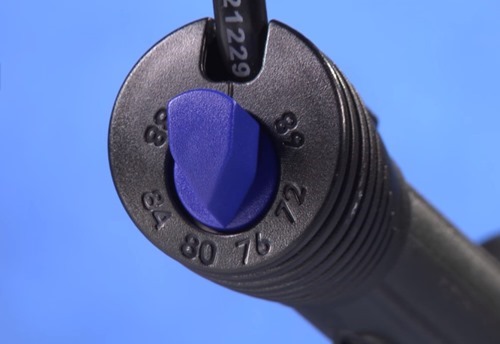 A big feature for this aquarium heater is its high-quality construction which makes it nearly indestructible and shatterproof. It is designed with an auto shut-off to protect itself against abnormal use. When the water level in your aquarium decreases to under the minimum water level of the heater, it turns itself off to prevent damage by running dry. It can be placed vertically or horizontally into the tank and is fully submersible. It includes a suction cup clamps for you to safely install the device.
Cobalt Aquatics Neo-Therm Heater 100W for tanks up to 29 gallon
Type: fully submersible
Wattage: 100W
Temperature range: from 66°F to 96°F, ±0.5°F
Ideal for: 20-29 gallon fish tanks, both fresh or saltwater
Warranty: 

3 years.
If you are finding a high-quality heater for your 20-gallon fish tank, the Cobalt Aquatics Neo-Therm Heater 100-watt is a great choice. Rated for aquarium up to 29 gallons, it works well for a tank with 20 gallons of water. It has a modern and super flat design with only 1/3″ thick. By this design, it does not bother the interior design of your tank and you can easily hide it from view. It features an LED display that shows not only the temperature you have set but also the actual water temperature in your aquarium. There is a button on its top for you to set your desired temperature.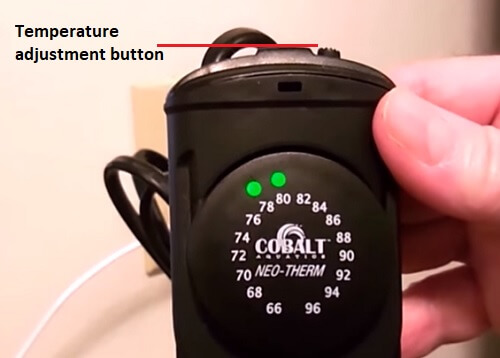 For reliability and safety, the Cobalt Aquatics Neo-Therm is built with an integrated thermal protection circuitry which automatically shuts it down to prevent overheating. Thanks to its shatterproof outer casing, the heater is more durable and indestructible. It can only be placed vertically in your tank and it is fully submersible. It includes suction cups for you to easily install the heater.
Finnex Electronic heater controller with titanium tube 100-watt
Type: heater controller with heating tube
Wattage: 100W
Temperature range: 70-92 °F
Indicator lights on the controller for power and heater
Used for: aquariums up to 30 gallons, both saltwater and freshwater applications.
The Finnex Electronic heater comes with a controller and a titanium heating tube. The controller is placed outside the aquarium, it controls the work of the titanium heating tube which is fully submerged in water. By this design, it allows for temperature adjustments without getting your hands wet. The controller features monitor LED lights that indicate the working status of the heater and the power supply.
The titanium tube is corrosion-resistant which extends its life expectancy, especially in saltwater tanks. The titanium is ultra-fast heating and provides a stable temperature without temperature swings. This ensures a stress-free life for your aquatic friends. The titanium is wrapped with a protective heater guard to protect your fish from contacting the heating core. There are suction cups on the protective guard for you to position the heating tube in a proper place in your tank.
Tetra HT submersible aquarium heater
Type: fully submersible
Wattage: 100W
Temperature: preset at 78 °F
Ideal for: 20-30 gallon tanks.
This is a fairly cheap heater from Tetra. It is ideal for aquariums between 20 and 30 gallons with hoods. You do not need to set the temperature on this heater because it has a built-in electronic thermostat that is preset to heat the water to 78 degrees Fahrenheit. This is the ideal temperature for most tropical fish. It has a green and a red indicator light which helps you know if the heater is functioning or not. The red light indicates that the device is heating while the green light indicates that your desired temperature has been reached.
It can be either installed vertically or horizontally in your tank. The small footprint allows you to hide it behind plants or other decorations in your aquarium. By this way, it does not compromise the design of your tank. It comes with a suction cup for the easy setup. If you are finding a cheap heater that doesn't have many complicated functions and is easy to use, the Tetra HT submersible aquarium heater is the best choice for you.
Fluval E Electronic Heater 100W for tanks up to 30 gallons
Type: fully submersible
Wattage: 100 watts
Temperature display: both Fahrenheit and Celsius, ranging from 68 to 93°F
Colored display alert system
Ideal for: aquarium up to 30 gallons
5-year warranty.
It features dual temperature sensors which allow it to constantly measure temperatures and show real-time water temperatures. The LCD display can change its color if there is a +/-2 degrees F variation between the real water temperature and the preset temperature. This alert function helps to remove any potential risks of temperature fluctuations for your aquarium friends.
The heater has an integrated fish guard system which prevents your aquarium inhabitants to come near the heater core. The guard also protects the heater from getting damaged by large fish species. The heater is built with a secure mounting bracket for easy and secure setup.
Odyssea aquarium heater submersible 100W
Type: fully submersible
Wattage: 100W
Temperature range: from 68 to 93 °F (20-34 °C)
Ideal for: freshwater or saltwater tanks up to 30 gallons.
This heater from Odyssea can be used in fresh or saltwater tanks. You can easily set the temperature via a knob at the top of the device. You can read the temperature at the front of the device. The temperature is shown in Degree Celsius and in Degree Fahrenheit. Under the degree scale is an indicator LED light. When this light is on, the device is currently operating. When the light goes off, the water has reached your pre-set temperature.
The heater is made of stainless steel which is corrosion-resistant, this is important especially for saltwater tanks. It is fully submersible and can be installed vertically or horizontally. It includes suction cups which allows you an easy and safe installation of your heater.