Spooky Halloween and haunted forest aquarium decorations
Sieu Nguyen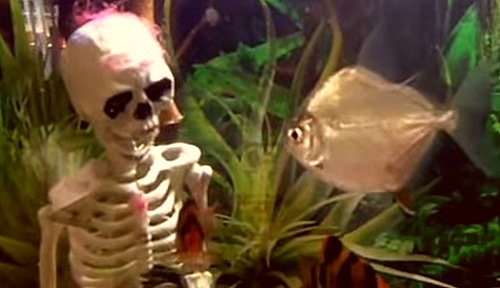 Do you have any idea for Halloween? Why not create the creepy Halloween aquarium decorations for the spookiest time of year?
Think about it, all your friends will be focusing on decking their halls and lawns with pumpkins and skeletons and almost no one will think about designing an awesome aquarium theme where the fish swim with the undead.
Best Halloween aquarium decorations
Luckily, there are some Halloween decorations designed to safely use on your aquarium. Let's start off with the ultimate Halloween aquarium theme, the graveyard. To create this effect, we will be using a couple of non aquarium decorations. Ultimately, you would want your final design to look like a spooky graveyard. Here are a couple of suggestions that you could use to create your Halloween aquarium theme:
Zombie Hands and Tombstone
Zombie Walking Tombstone Ornament
Halloween grave escape skeleton
Exotic Environments Skull Mountain Aquarium Ornament
Exotic Environments Skull Mountain
South Castle aquarium decor
Police Box Aquarium Ornament
Happy Halloween Zombie Ornament
Halloween aquarium decorative resin skull
Blue ribbon small life-like human skull
Exo-Terra Primate Skull Hideaway
Penn Plax Skulls Aquarium Ornament
What you would put into your aquarium depends largely on how big your tank is.
For a small aquariums such as 5 gallon aquarium or 10 gallon aquarium, you would need the fence, skeleton and some black gravel.
First scatter the graves around the bottom of the tank. They do not need to be arranged in neat rows. If you use finer black gravel as your substrate, you could make bulges in them in front of each grave stone to replicate a grave.
Next, placing the skeleton just in front of one of the grave stones to make it seem as if it is climbing out of its grave.
Finally, you would arrange the fences around the graveyard. The great part about this design is that it is relatively low and will not at into your fish swim space.
For medium fish tanks (20 – 55 gallons), you would do the same as above but you would also add on some scary trees to give it a better effect. If your aquarium is large, you could also add in the Skull Mountain.
If you want a cool fish tank background for the whole effect, you could make your own or buy a Halloween background to perfect the look of your aquarium. Besides, you can use soft, blueish aquarium LED lighting to make it look even more spine chilling.
A Halloween Theme for your aquarium will create a unique addition to your Halloween decorations. Just scanning through any online store will tell you that there are virtually no many fish tank decor specifically for this holiday. That mean you would have a design that no one else will have. Use the aquarium decorations above to create a theme that will make you the talk of the town for a long time to come.
Haunted forest aquarium decorations
The Haunted Forest theme is very easy to design because there are already a number of really cool aquarium decorations that you could use. To start off, here are the fish tank decorations that you would use:
Aquatic Creations Medium Trunk 1 Aquarium Ornament
Exotic Environments Hollow Tree Stump Aquarium Ornament
Aquatic Creations hollow tree trunk aquarium decorations
Extra large wood ornament
Polyresin cave decor large
Green lifelike plastic plant
Fluval mossy rock fish tank decorations
Exotic Environments Ancient Stone Head Ruin Aquarium Ornament
Penn Plax Cambodian Rock Faces Aquarium Figure
Again, the type of aquarium decorations you choose will depend on the size of your aquarium. The best part about any of the aquarium decorations in this theme is that they all have caves for your fish to go in.
For a small aquarium, you would probably be limited to the Tree Monster used so selecting one that you like.
For a medium size fish tank, you could place one of the Stone Head as well as either a Hollow Tree Stump / Trunk or a Extra large wood.
For larger aquariums, to make this aquarium theme so much more awesome, you could add in the Cambodian Rock Faces. This is actually from the Cambodian collection of fish tank decorations, but will fit nicely with our theme.
Carefully preparing if using non aquarium decorations
There aren't many aquarium decorations that is specifically created for Halloween. But what we can do is use other resin or clay Halloween ornaments and with a little bit of preparation, create awesome designs that will send shivers down spines. Alternatively, we could mix and match existing fish tank decorations from various themes such as pirates and sunken ships to create our ghoulish effect.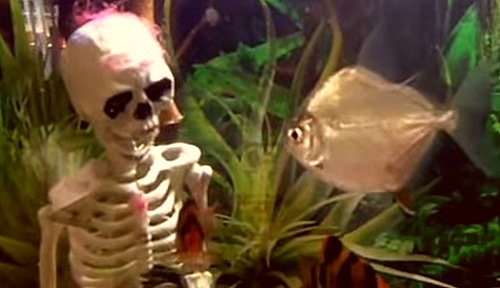 Spooky Halloween aquarium decoration
There are a number of issues if you use ornaments that were not meant to be aquarium decorations. The main issue is the material used. The second issue is how it is colored. If the paint is moulded onto the item, then it is fine. But in most cases, house decorations are hand painted and the paint could potentially leak into the aquarium water. Finally, there is also the issue of metal parts.
The first thing you need to do is to thoroughly inspect the item. Any metal part, no matter how tiny needs to be removed.
For ornaments that are hand painted or probably made out of less suitable material, what you can do is coat them thoroughly in transparent aquarium silicone. This will lock the toxin in a waterproof layer that will prevent leakage.