10 best & quietest aquarium air pumps – reviews & guides
Updated: February 1, 2019 - By:
Sieu Nguyen
An aquarium air pump can be used for many purposes such as increasing the oxygen aeration for fish, operating some equipment (undergravel filters, sponge filters, corner filters, protein skimmers…) or action aquarium ornaments. To come with an air pump, you will need to select a right one that is suitable for your aquarium size and needs, as the wrong choice can cause a wide range of problems. So, how to choose the best and quietest aquarium air pump for your needs, this article will help you.
How to choose a fish tank air pump?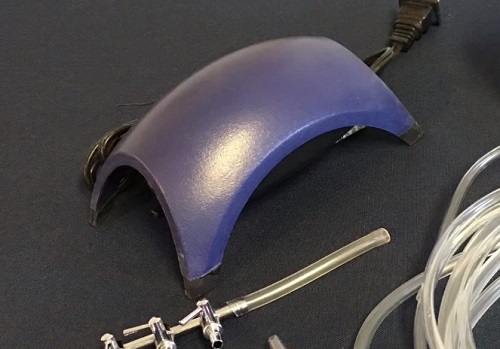 There is a thumb rule to know if an air pump is suitable for your tank size or not. This is to choose one that features a flow rate equal to your aquarium volume. For example, a 50 gallon fish tank will need an air pump with a flow rate of 50 gallons per hour (GPH). However, this rule may vary based on your needs as well as the types and number of fish in your aquarium.
If you need an air pump to run your filters, choosing the right one rated for your tank size. An air pump with higher flow rate you will need if you have more things (filters, ornaments, large air stones…) as well as more resistance to push air through. Remember that too much alterations in the habitat of fish and they simply die! Therefore, to guarantee a good filtration and water recycling ability, a water pump or fish tank filter with a good flow rate should be on your buying list.
If your tank is too deep (over 18 – 20 inches in height) that mean the air pump you choose must be one designed to push air far below the water surface. Remember to check the durability, noise of operation and the service offered for the air pump before buying one. Following are some best options for you.
Best aquarium air pumps reviews
Uniclife aquarium air pump with 2 outlets for 20-100 gallon tanks

(5/5 by editor)
Check on Amazon.com
Flow rate: 2.0 L/min x 2 outlets = 4.0 L/min (approx 52.8 GPH), a

djustable

Outlets: two
Accessories: 2 return valves, 2 air stones, 2 connectors, and 6.5 ft airline
Hosing: 6.5 ft standard air hose (4 mm internal diameter)
Sound: 25 dB at lowest flow rate (like rustling leaves), 43 dB at highest flow rate
Used for: 20-100 gallon fish tanks (60-400 liters)
Warranty: 1 year.
The Uniclife air pump is created with a black design. This air pump can be used in 20-100 gallon fish tanks and comes with many features. One is an adjustable air flow feature. This feature will allow you to easily change the air flow in the tank depending on the needs of your fish. Another great thing about this air pump is that it is made with an ultra-quiet feature. This means it will run at a very quiet noise level so it won't be distracting and cause annoying vibrations for you as well as your fish. There are also two outlets in this air pump that you can use it for many purposes.
It has an exhaust of 4.0 L/min and a pressure of 0.016 MPa. It is easy to install and comes with accessories. These accessories include 2 return valves, 2 air stones, 2 connectors, and 6.5 ft air hose (standard 4mm). One thing to keep in mind about this product is that you need to make sure it isn't installed lower than the tank itself. This could end up causing major problems to not only your air pump, but to your aquarium as well.
Mylivell quietest and h

igh energy saving 

aquarium air pump

(5/5 by editor)
Check on Amazon.com
Flow rate: 240 ml/min (approx 3.2 GPH)
Accessories:  1 air tube, 1 air stone, 1 user manual, sucker
Noise: <33 dB
Wattage: 1.5 W
Used for: up to 20 gallon aquariums
Other sizes: 2 W for up to 30 gal, 3.5 W for up to 50 gal.
This model features a unique design. It is created with a black stingray-like shape and on the back of it there is a suction cup. This suction cup will help to keep the air pump securely attached to your aquarium. Besides this interesting design, it is also one of the quietest air pumps available. It is made with special materials to accomplish this. Unlike traditional electromagnetic air pumps, this air pump uses a new technology using a piezoelectric ceramic plate to produce air flow that helps reduce the noises made.
Compact design for easy setup
This model is very energy efficient with a power consumption of only 1.5W. It provides an air flow rate of 240 ml/min and can be used for aquariums up to 20 gallons. This makes it ideal to use in small and medium size aquariums. The installation of this air pump is very easy so you don't have to worry about it being a time-consuming process. This model is ideal for those who want a compact, silent and easy to use air pump for their small or medium sized aquarium.
Tetra Whisper 10 air pump for up to 10 gallon fish tanks

(4.5/5 by editor)
Check on Amazon.com
Air flow: 0.5 L/min (approx 6.6 GPH)
Noise: dome shaped for reducing quiet operation
Used for: up to 10 gallon fish tanks
Other sizes: Whisper 40 for 20 – 40 gal, Whisper 60 for 40 – 60 gal, Whisper 100 for 60 – 100 gal.
Being shaped like a dome helping to trap much sound produced that makes Tetra Whisper air pumps one of the quietest air pumps on the market. In fact, the dome design incorporates sound dampening chambers which help to prevent these loud noises from occurring. The bottom of this air pump features rubber feet which work to prevent the air pump from being too loud and from slipping while running.
It can work with small fish tanks up to 10 gallons; however, there are also other available sizes for a road range of aquarium sizes up to 100 gallons. Being manufactured by Tetra – one of leaders in aquarium products, Tetra Whisper air pumps are reliable, quiet and cheap that makes them very popular in the aquatic hobby today.
Tetra Whisper AP 300 for deep water and large aquariums

(5/5 by editor)
Check on Amazon.com
Noise: designed to minimize the operating noise
Used for: tanks up to 8 feet deep, large fish tanks up to 300 gallons
Other sizes: Tetra Whisper AP 150 for up to 150 gallons.
In an extra-large or deep fish tank with high back pressure, normal air pumps can't work properly and are even destroyed by the back-flow of the tank water. Know that, the Tetra Whisper AP 300 is specially designed to use for deep water applications. In fact, this air pump can work with fish tanks up to 300 gallons. It is able to put air down to 8 ft under the water surface to help ensure that your fish have enough oxygen. Because of this feature, your aquarium will have an adequate aeration, even in deepest areas.
Like the previous models for smaller tanks from Tetra, the Tetra Whisper AP 300 is also designed to minimize the operating noise. Even though it might be a little larger than some other air pump models, it works just as quietly as a smaller size ones. If you're looking for a quiet model to use with your deep water aquarium, definitely consider this model. There are two available models – AP 150 for aquariums up to 150 gallons and AP 300 for aquariums up to 300 gallons.
Active Aqua air pump with 

4 outlets for operating many equipment

(4.5/5 by editor)
Check on Amazon.com
Air flow: 240 GPH, a

djustable

Outlets: 4
Sound: 

maximum is 45 db

Ideal for: operating many air stones, ornaments, filters in a large tank (over 50 gallons) or many different tanks.
Other models: 1-outlet, 2-outlet and 8-outlet models.
This air pump features an air control dial on the top of it. You can adjust the air control with this dial to either a higher or lower setting. Also, to help keep this air pump quiet while running, it uses a multi-level muffler. This muffler will work to decrease the noise made by this model so it works quietly and won't disturb your fish.
You'll find multiple outlets built into this air pump so you can use it with various aquarium devices and ornaments. This model can provide a maximum air flow of 240 gallons per hour making it suitable for a large aquarium with over 50 gallons of water. You can also use it with many smaller tanks. It is ideal if you want to operate many sponge filters in many fish tanks with only an air supplier.
Marina Battery-Operated air pump for power disruptions, fish transit

(5/5 by editor)
Check on Amazon.com
Accessories: 

air stone and 18″ tubing

Ideal for: saving your fish during power disruptions or transit.
The Marina Battery-Operated air pump is created with a sleek black design and comes with an air stone and 18 inch tubing that you can use with this model. It's a battery-powered backup air pump, so you can use to help make sure your fish are still receiving enough oxygen even when the original air pump isn't working. This makes it great to use in situations of power outages. It is also ideal to use this air pump if you want to transport your fish to somewhere that is so far away from your house. This can help to provide them with a sufficient amount of air during transit.
EcoPlus Commercial Air 5 with multi outlets for fish farm

(4.5/5 by editor)
Check on Amazon.com
Flow rate: 1300 GPH
Outlets: multi outlets
Used for:

 aquariums, fish farms, fish stores, and hydroponic systems.
If you own a fish farm and have so many fish tanks to care for, this air pump is an ideal choice for you. It features a high air flow and multi outlets for you to use it with many sponge filters and air diffusers in different fish tanks. It also comes with a noise reduction feature to help prevent annoying noises from occurring.
VicTsing fish tank air pump with 2 outlets and 2 air stones

(4.5/5 by editor)
Check on Amazon.com
Exhaust: 3.5 L/min (46.2 GPH), a

djustable

Outlets: 2
Accessories: 2 air stones, 

2 silicone tubes

Sound: < 35 dB
Used for: both 

freshwater and marine fish tanks with the depth less than 1.64 feet.
If you're looking for an air pump that can work with small and medium size tanks, this is a great model to consider. It is made with a sleek black and double-headed design. This double-headed design allows this air pump model to be used with 2 tanks at once. If you have 2 aquariums near each other, you can easily use this one with them both.
This air pump comes with 2 silicone tubes which measure 3.28 ft. and 3.77 ft. It has 2 outlets which you can put the tubing in. There is also a multi-level muffler built into this model to help ensure your air pump runs as quietly as possible. Be sure to not let this air pump get near or touch any water though as it isn't waterproof.
Fluval Q2 air pump for 50-160 gallon fish tanks

(4/5 by editor)
Check on Amazon.com
Flow rate: adjustable
Used for: 50-160 gallon fish tanks
Other sizes: Fluval Q1 for up to 80 gallon aquariums
Warranty: 2 year warranty.
The Fluval Q2 air pump is made with a very stylish design with black and gray coating. This model is ideal to use with aquariums that have a 50-160 gallon capacity. There is also an adjustable air flow control feature with this air pump. You can adjust this control to get what you'd like the air flow to be in the fish tank. To prevent this air pump from running loudly, it is built with a noise suppressing baffle chamber. If you are a fan of Fluval, this air pump is for you.
Pet Magasin air pump with a

djustable air flow

(4.5/5 by editor)
Check on Amazon.com
Flow rate: a

djustable with a fine tuning control

Outlets: 2
Accessories: tubing, air stone
Used for: medium to large fish tanks.
Warranty: 

2 years.
This air pump is made with a stylish white and dark green design. It features 2 outlets which allow you to use it with 2 fish tanks at the same time. It has a fine-tuning control feature which you can use to change the air flow to help better suit your fish. It is a cheap and reliable solution to keep your aquariums better aerated.
Benefits of fish tank aerators
To increase the aeration for your fish tank
When people bring into their homes certain species that they want to take care, it is very advisable to copy or imitate the original habitat of that certain organism. This is important because by doing so, you will make it easier for these organisms to cope and adapt easily to their new environment. This can be applied greatly to the fish that you put inside an aquarium. Copying their habitat can be achieved easily through the use of the right equipment such as aquarium filters, LED lighting, heaters, aerators…
Contrary to the popular belief that a fish tank air pump 'supplies' oxygen, the air pump actually promotes the dissolved oxygen. The increased dissolved oxygen means better and efficient gas exchange and minimizing of the harmful effects of other dissolved gases like ammonia. Ever wondered, that the oceans actually don't have a huge air pump. Aeration is provided due to the super – sized surface area and the movements of the marine life in it.
The surface area inside the tank is obviously not as large as the surface area of other bodies of water so it also means that there is not enough oxygen circulating inside the aquarium. The benefits that aerators bring come into this picture. People use these aerators to help produce more oxygen for the fish inside the aquarium. This is really very helpful because it duplicates the original habitat of the fish to the highest possible level. As a result, fish easily feel that they are not far away from their original home.
To operate some aquarium filter types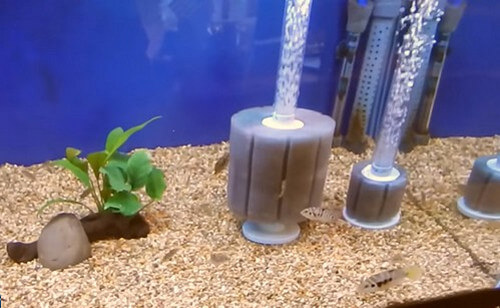 The sponge filter in fry tank powered by an air pump
Some aquarium filter types such as undergravel filters, corner (box) filters, sponge filters and some types of protein skimmers need to be powered by aquarium air pumps. When these filters are working, the air is pushed from the air pumps to the filters and then it escapes out of the water that makes a power to keep the filters working.
In the filters use air pumps as their main power to operate, the air increases the dissolved oxygen content not only for the fish but also for the nitrification bacteria to build up and best perform biological filtration that keep the water clean and safe for fish.
To create a dynamic look with action ornaments
Using air pumps to create a dynamic look when used with such items as bubbling air stones with colorful LED lighting or to operate other aquarium action ornaments. The disturbances in the flow and agitation in the water helps operate some action decorations such as skeleton, spinning wheels… and make them look alive.
Saim Windmill Live Action Aquarium Ornaments
Penn-Plax Skeleton at the Wheel
Saim Tropical Clam Live-Action Aerating Aquarium Ornament
You can use some air pump accessories such as airline tubes and T-connectors to operate many action ornaments with a same good flow rate air pump.
Find more air driven aquarium ornaments: https://lovefishtank.com/action-aquarium-ornament/
Aquarium air pump accessories you may need
Airline tubes and suction cups
Penn Plax standard airline tubes
3/16-inch, 26-feet aquarium airline tubing with 6-pcs suction cups
Air line pipe tube pump suction cups
Tubing connectors and valves
Air tube tubing T-connectors
Air pump control valves
One way non-return air pump check valve
2 air stones, 2 check valves, 4 connectors and 6 suction cups
Air stone or air diffuser
Air stone bubble diffusers with various shapes
Disk air stone with underwater LED light
Round air stones
Penn Plax bubble-wall air diffuser
2-Piece air stone bars
Volcano ornament bubbler kit
Is an air pump necessary for fish tank?
Whether you really need a fish tank air pump is dependent on the fish you plan to keep in. Therefore, the answer to the question is a Yes or even a No, sometimes. For the large fish tank with small amounts of fish, you don't need any air pump. Otherwise, for the small fish tank at home, an air pump is very much needed if your fish are high aeration need.
For large tanks enclosed though, the fish tank air pump is needed and is a requisite for ensuring that the fish live well! The huge closed fish tanks open for public exhibition are actually fitted with high performance, high capacity air pumps which provide optimum oxygen to the aquatic life underneath.
Bigger fish like the tiger, etc may require a fish tank air pump especially if the fish population density is high. Higher the number of fish, more rapid is the oxygen depletion in the water. Therefore an optimum ratio of fish should be maintained along with the functional, decorative items in the tank.
For Goldfish or Koi fish, too much of dissolved oxygen in the water can be detrimental for them. But keeping in mind, the amount of waste generated by a single goldfish, it is imperative to use one fish tank air pump. These are very sensitive creatures and respond to the even minutest changes in the water.