Best 50 watt heaters for 10 gallon aquariums
Updated: February 7, 2019 - By:
Sieu Nguyen
This article reviews some of the best 50-watt aquarium heaters from various types that you can use in a 10-gallon fish tank.
Aqueon Pro Heater 50W for fish tanks up to 10 gallons

(5/5 by editor)
Check on Amazon.com
Type: fully submersible
Wattage: 50W
Temperature range: 68 to 88°F, accurate to ±1°F
Special features: indicator light, auto shut-off
Used for: 10-gallon fish tanks, both saltwater or freshwater.
This 50-watt Aqueon Pro heater is designed for use in up to 10-gallon fish tanks. It features an electronic thermostat which allows for accurate temperature settings. There is a large dial control knob on its top for you to set your desired temperatures. Its monitor light helps you know the working status of the heater. By this way, the water is maintained at a desired temperature range for the survival and thriving of your fish.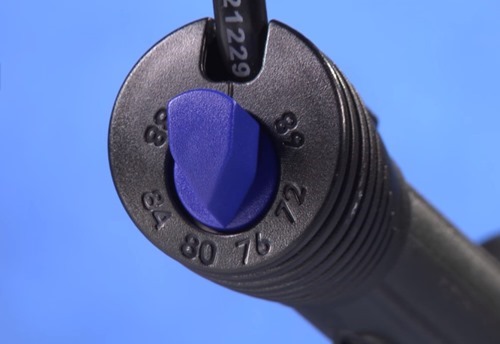 The heater is made with shatterproof and waterproof materials. The shatterproof nature makes it strong and durable for a long-term service with damages. The waterproof design, on the other hand, ensures that the inner electronic units are not affected by the water into which the heater is submerged. It is designed with an auto shut-off to prevent overheating damage when the water level in your aquarium decreases to under the minimum water level of the heater. The product is designed to be safely used in both freshwater and saltwater environments.
Cobalt Aquatics Neo-Therm Heater, 50 watt

(5/5 by editor)
Check on Amazon.com
Type: fully submersible
Wattage: 50W
Temperature range: from 66°F to 96°F, ±0.5°F
Special features: slim design, LED display for water temp and set temp
Ideal for: 10-gallon fish tanks, both fresh or saltwater
Warranty: 

3 years.
The best feature of this heater is its ability to provide an exact temperature range that varies only ±0.5°F around your set temperature. Unlike other heaters with adjustment knobs for setting temperatures, the Cobalt Aquatics Neo-Therm Heater features a one-touch "system" for more exact and reliable temperature settings. By simply pressing a button on its top, you can set your desired temperature. Its LED display shows you both the real-time water temperature and the set temperature, helping you to better monitor the heater.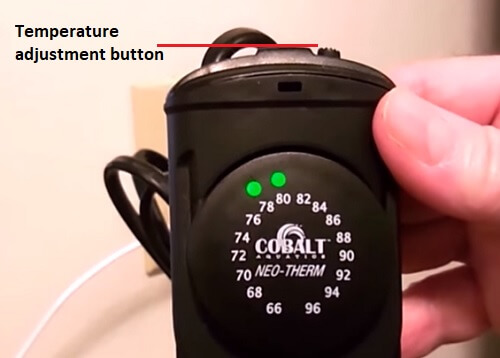 This 100W aquarium heater features a unique flat design that is meant to facilitate easy installation in a fish tank. There is also a special safety feature that is meant to protect itself from overheating damage. Thanks to its shatterproof outer casing, the heater is more durable and indestructible. The heater is also waterproof and is fully submerged in water. It comes with suction cups for you to easily install the heater. It is recommended to place the heater in a vertical manner for its proper working.
Finnex Electronic controller with 50-watt heating tube

(4.5/5 by editor)
Check on Amazon.com
Type: heater controller with heating tube
Wattage: 50W
Temperature range: 70-92°F, accurate to ±2°F
Other features: indicator lights for heater and power
Used for: aquariums up to 20 gallons, both saltwater and freshwater.
The Finnex Electronic heater comes with a controller and a titanium heating tube. The controller is placed outside the aquarium, it controls the work of the titanium heating tube which is fully submerged in water. The controller allows you to monitor the temperature and makes appropriate changes when needed. By this design, it allows for temperature adjustments without getting your hands wet.
The electronic controller is able to maintain a highly accurate temperature range in your fish tank that varies within 2 degrees Fahrenheit around the set temperature, thus providing a stable and healthy environment for your fish. The controller features two LED indicator lights that indicate the working status of the heater and the power supply.
The heating tube is designed with titanium which serves two key purposes – for both ultra-fast heating capacity and durability. The titanium tube is able to resistant to both corrosion and mechanical damages. It is wrapped up in a protective heater guard that protects your fish from contacting the heating core. The protective guard is fitted with suction cups for easy setup.
Fluval M submersible heater 50W for up to 15-gallon tanks

(4.5/5 by editor)
Check on Amazon.com
Type: fully submersible
Wattage: 50W
Temperature: 19-30°C
Special features: borosilicate glass enclosure with reflective technology
Ideal for: up to 15-gallon fish tanks.
The Fluval M aquarium heater features a slim design facilitating easy installation. Its heating core is fitted with a high-density ceramic heat sink for better heating efficiency and distribution. Its thermostat is well calibrated for more precise temperature settings. It comes with an easy-to-adjust temperature dial on its top for setting your temperatures.
The unique feature of this product is its shock resistant borosilicate glass enclosure with reflective technology for the purpose of aesthetics. The glass enclosure is able to mirror the surrounding environment, thus making the heater blend into your aquarium and not compromise the beauty of your aquascape. The product comes with a 3-year warranty from the manufacturer – Fluval Aquatic.
Tetra HT submersible aquarium heater 50W for 2-10 gallon tanks

(4.5/5 by editor)
Check on Amazon.com
Type: fully submersible
Wattage: 50W
Temperature: preset to 78°F, can't be adjusted
Special feature: indicator light
Ideal for: 2-10 gallon fish tanks with tropical fish.
Unlike other aquarium heaters, the Tetra HT submersible heater is designed for simple use on tropical fish tanks only. It is preset to maintain the water at a specific fixed temperature of 78 degrees Fahrenheit, which is suitable for most types of freshwater tropical fish. By simplifying the option of temperature adjustments, this heater is a great choice for those who are finding a cheap and easy to use aquarium heater for their tropical aquariums.
The Tetra HT aquarium heater features an indicator light that is meant to let you know whether the unit is working properly or not. When the light is red, it shows that the unit is in the process of heating the water. When it is green, it means that the heater is on but there is no heating taking place because the proper temperature has been reached.
This heater is designed for simple use and easy installation with a suction cup. You can place it in both vertical and horizontal manners as you want.